Ingredients
Pour 2 petites tasses
FOR THE MATCHA CHEESECAKE:
1 cup cream cheese, room temperature
1/4 cup granulated sugar
1 tbsp premium matcha powder
2/3 cup white chocolate, melted
1 egg, room temperature
FOR THE BROWNIES
1/3 cup unsalted butter, diced
1 cup semi-sweet baking chocolate
1/2 cup granulated sugar
2 eggs, room temperature
1 tsp vanilla extract
1/2 cup rice flour
1 tbsp potato starch
1/4 tsp salt
A twist to your cheesecake & brownie recipes
Who dosen't love a good cheesecake ? And who dosen't love brownies ?! How about a cheesecake and brownie twist ? I think yes! This recipe gives a really cool and fun taste to both classics with some matcha flavouring to add a marbled look.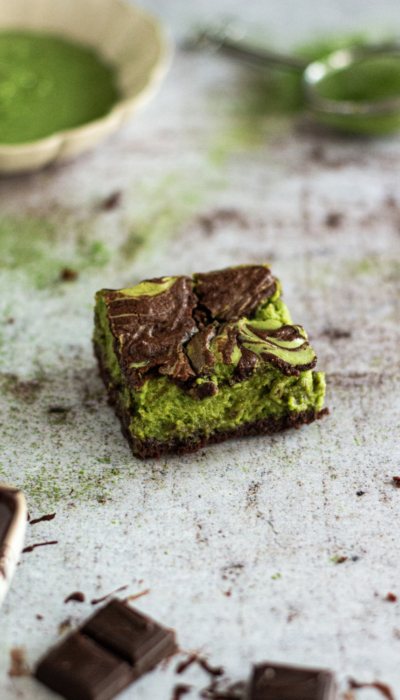 Heat your oven at 350 F and line a square 20cm baking pan with parchment paper.

  In a big bowl , beat the philalephia cream cheese and the sugar until well combined.

 . Sift the premium matcha powder in the bowl and beat for a few more minutes. Add the melted white chocolate and the egg and finish beating everything together.

 In a small pot, melt the butter on medium heat. Lower the heat and add the chocolate chips and combine until the chocolate is just melted. Remove from heat and beat in the sugar.

 Add the eggs into the chocolate mixture as well as the vanilla extract, the rice flour, the potato starch, salt and beat together until well combined.

 Transfer 3/4 of the brownie mixture into the cake pan. Tranfer the cheesecake batter on top evenly.

With an ince cream scooper add the 1/4 of the brownie batter remaining on top of the cheesecake batter spoon by spoon all over the top of the cake pan. It should be around 3 spoons per row. With a chopstick make small effects and lines with the bater to create your marbled look with the chocolate and matcha.

 Bake for 30 minutes or until a knife comes out clean. Cool completely before transfering onto a serving platter. Cut into squares and enjoy!
Related posts