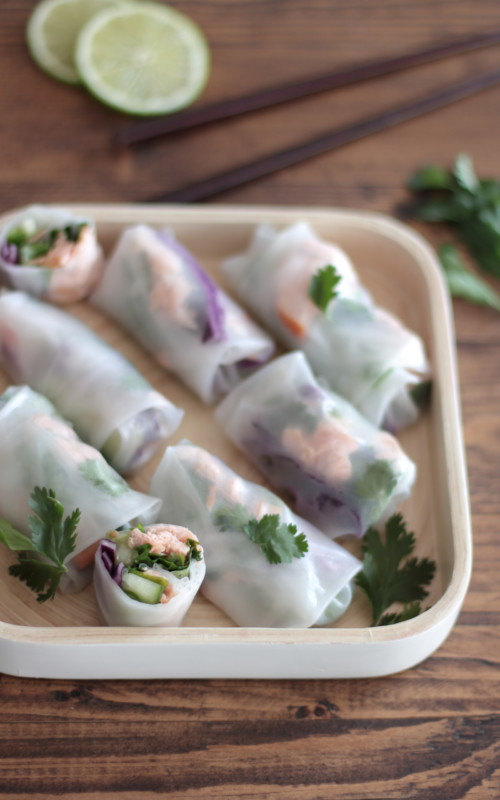 Today I'd like to share a sort of revisited Mexican recipe of mine : fish tacos Spring roll style with these Fresh Salmon and veggie Spring Rolls.
Who says you can't make just about anything into spring rolls ? This recipe literally calls for the same ingredients I put in my Fish tacos recipe but I replaced the flour tortillas for a lighter and gluten free option – rice wrappers.
The only tricky part is to fold the rice wrappers right, after having soaked them in warm water for a few seconds until they get soft.
Add the filling at the bottom edge of the rice paper, not filling it too much.
Flip the sides of the wrapper over the filling.
Roll from the bottom to encase the filling tightly.
Once rolled set aside for a few minutes as to let the rice paper stick together.
1. Cook the salmon in a pan and set aside to cool
2. Chop all the vegetables and cilantro and dispatch in individual bowls
3. Once the salmon is cooled down, remove the skin an flake into bite size chunks
4. Soak the rice paper before filling.
5. Assemble all the ingredients in the rice paper and set aside.
3 thin slices of ginger- cut across the grain, about the size of a quarter.
¼ cup peanut butter ( or sub almond butter!)
¼ cup fresh orange juice ( roughly ½ an orange)
3 tablespoon fresh lime juice ( 1 lime)
3 tablespoons honey or agave
3 tablespoons toasted sesame oil
½ –1 teaspoon cayenne pepper ( or a squirt of sriracha sauce)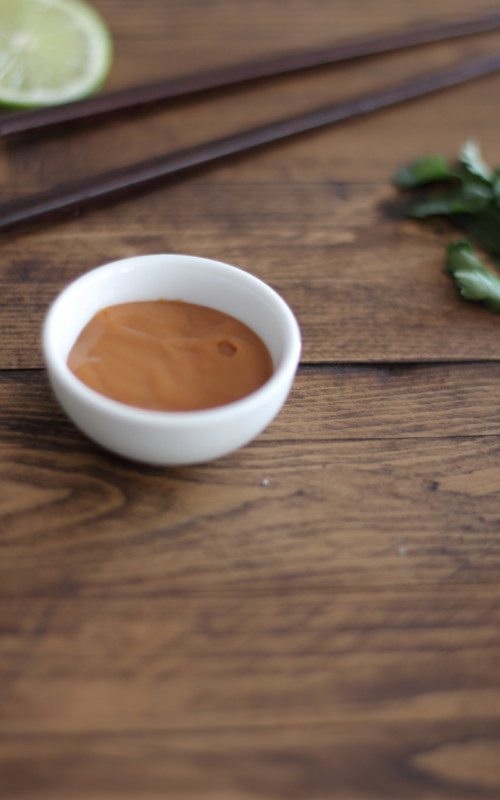 Once they are ready, they can be served with a peanut dipping sauce and some lime.
Blend all the ingredients together until smooth.
Related posts