Ingredients
For 5-6 small tarts or 1 big tart
CRUST
? 3 cups almond flour
? 3 tablespoon maple syrup
? 3-4 tablespoon water
FILLING
? 5-6* pitted Medjool dates for layering in the bottom, chopped
? 1 ½ cup pitted Medjool dates
? 2 cups canned coconut milk
? 1 teaspoon vanilla extract
? Pinch of sea salt
? 1 ½ tablespoon . cornstarch
*(or according to size of your dates more or less)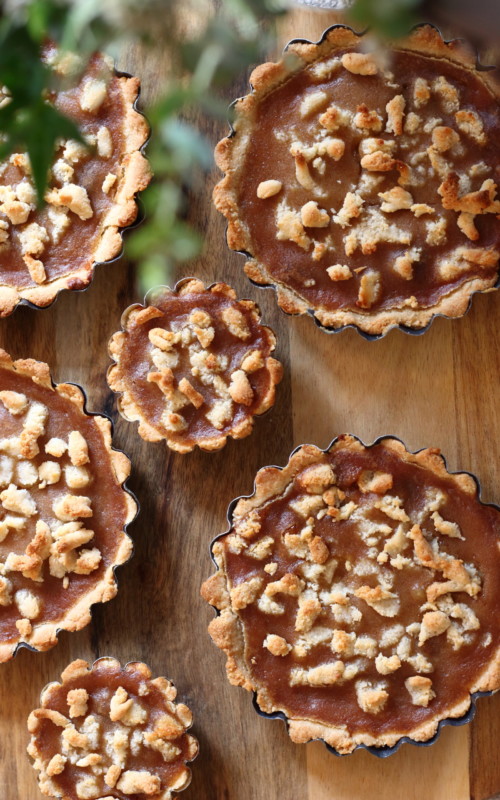 Today's recipe – Almond & Medjool date tart – is perfect for vegans and gluten free adopters, or for those with a curious mind and looking for recipes that are healthy and not full of overly processed ingredients.
I avoid eating gluten as much as I can, because I've finally realized after years of struggling with stomach & digestive issues as well as major bloating – that I am intolerant to it. I love a good baguette, and I love pizza & pasta… so I still eat all of those things once in a while, but not daily anymore. It really changed my life and I feel so much better.
There are a lot of alternatives to gluten for our diets, and some really interesting and tasty ones like Almond flour.
Hard to find in Paris, I buy it online on Amazon, but it should be found in organic stores.
I'll resume its benefits in a nutshell, but if this subject interests you check out this article, it explains all the benefits of almond flour and almonds in general and also compares almond flour to other gluten free flours such as coconut flour: Almond Flour: The Gluten-Free, Heart-Healthy Flour Alternative
5 health benefits of Almond flour:
1. Boosts heart health
> 65% of the fat in almond flour is monounsaturated meaning it's excellent for maintaining good cholesterol levels & overall heart health. A good amount of almonds in our diets per day brings large amounts of antioxidants in our bloodstream which improves blood flow and reduces blood pressure
2. Helps discourage Cancer formation
> Known as one of the best cancer-fighting foods around, its consumption can decrease risks of colon cancer.
3. Great for Diabetic diet plans
> A low glycemic food great for supporting the decrease of blood sugar and insulin levels for diabetic patients.
4. A good support for weight loss
> for people with weight issues, metabolic syndrome, on a low carb diet, almond consumption has proven to help reduce weight.
5. Improves energy levels
> Full of healthy fats, macronutrients and micronutrients, they make a great energy booster and are full of Vitamin E, iron, magnesium, potassium & calcium.
I always have a bag of almonds in my closet to snack on instead of chips or salted peanuts in the evening. I toss them in my salads in the summertime & use almond flour in my baked goods too! Not only are they good but a healthy choice.
I must warn you that these little tarts (can also work with one big tart) do have a empowering almond taste. If you are not fan of almond paste don't make this recipe because you won't like it at all. The almond crust tastes exactly like almond paste, which works great with the dates and coconut milk mixture – but not if you don't like strong almond flavors.
Sugar free – the only source of sugar in this recipe is from the coconut milk and the small quantity of maple syrup added to the mixture.
Next time around I will add a few pine nuts to these tarts, either on the bottom of the crust with the dates or on top instead of the almond crumble.
1. Preheat the oven to 375°F / 190°C.
2. In a large mixing bowl, combine the almond flour and maple syrup. Mix with a fork adding the water 1 tablespoon at a time until the texture is clumpy and holds together when squeezed.
3. Press 2/3 of the dough into a tart pan (or in several small tart pans), making sure to cover all sides evenly and reserving 1/3 of the dough for the topping.
4. Spread the chopped dates into the bottom of crust.
5. Blend the 1 1/2 cup of dates with the coconut milk, vanilla, salt, and cornstarch until very smooth.
6. Pour into the crust. Spread evenly, covering the chopped dates.
7. Sprinkle on the remaining crust mixture.
8. Bake for approximately 45 mins at 375°F / 190°C (for a big tart) or 15-20 mins (if small tarts).
9. Let it cool, then chill overnight before slicing and eating.
(Keep in the fridge for up to 5 days).
Related posts