Ingredients
For a dozen muffins
? 2 cups of almond milk
? 3-5 tablepoons of powdered dark chocolate
? Ice cubes
? Optional: add 1 teaspoon of vanilla extract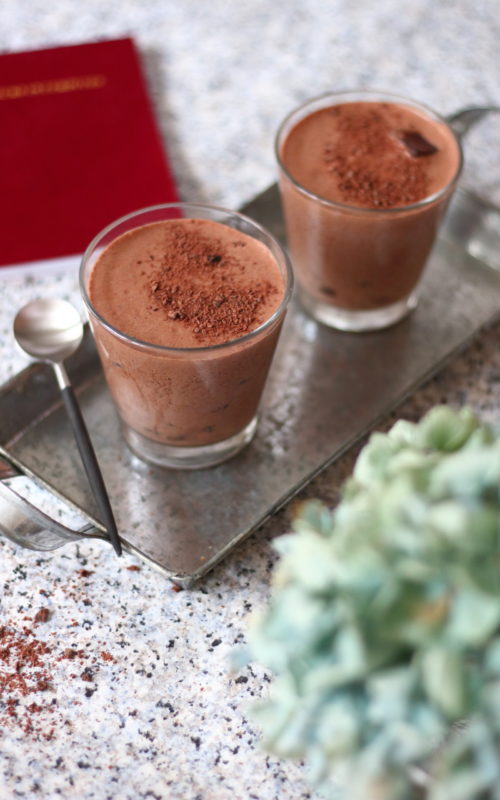 "All you need is love. But a little chocolate now and then doesn't hurt." Charles M. Schulz
Today I'd like to share this Iced chocolate & almond milk recipe – or just a simple beverage idea for you to contemplate on. I'd like to take advantage of this article to talk a little bit about how stress factors can lead to appetite loss and share how I have learned to control it seeing as I have had this problem before.
A lot of us experience weight gain issues and battle through dietary restrictions and frustrations, but the problem can also be reversed and just as complicated to deal with. Some may say that losing your appetite for a few days is a blessing in disguise because it leads to weight loss and helps you maintain a fit bod', but the truth is that it's highly unhealthy and can lead to other problems such as energy loss or vitamin and bone deficiencies.
Don't get me wrong, the subject of this article is not to talk about serious health conditions such as Anorexia which is way out of my league and definitely not my place to talk about as I am not a doctor and have no experience with this condition.
I have suffered all my life from occasional appetite loss – due to my illness – and at a point in my life it was a real problem. Today this rarely happens to me anymore but from time to time – during stressful moments – it comes back and it can be a real struggle for me to find ideas for day to day meals and to break the vicious circle.
We all face stress in our lives and we all have problems that affect us mentally and physically. It's more common to hear about compulsive eating habits (comfort food) to cope with whatever is causing the stress, but for others it's the opposite that happens with knots in our stomachs creating stress-nausea therefore leading to total repulsion of any kind of food and even water.
When this happens, if it is not handled immediately it can lead to important energy loss, making it impossible to function properly during the day – especially if this goes on for days, weeks or months.
For people who have Cystic Fibrosis like me, this can also happen due to other factors – and can lead to important weight loss.
When I was a little girl and a teenager I would have loved for someone to write a blog article on this, or write a recipe book with easy energy boosted meals or beverages that could have helped me through my day ! 😉
So how do I cope ? I have learned that putting pressure on my body in these moments just makes the problem worse.
I have accepted that this can happen, and when it does I've stopped fighting it. Instead I focus my meal planning on the right foods, so that even if I put very little food in my body, the choice that I make will be smart and full of energy.
Some examples are having a hardboiled egg (or cooked any way that appeals to you) for lunch with just a few cherry tomatoes, eating some dried fruit or nuts in between meals, or making some beverages high in calcium, and other nutrients or what I would call 'good fats' to act as an energy booster. When I was little my mom used to make me banana milkshakes that would give me a lot of energy and fill my stomach up. Bananas are also a comforting food for the upset stomach and is great for digestion.
Chocolate drinks are also great – such as this Iced chocolate almond milk drink – because chocolate has amazing benefits for the body. It has effective mood elevators and anti-depressants because it contains caffeine which is an alkaloid, theobromine, and phenylethylamine (an amine, particularly known to be anti-depressant). Cacao is also known to reduce stress because it contains tryptophan, an amino acid which has relaxing effects.
The trick though is to consume dark chocolate for a higher concentration in these nutrients !
I like this drink in the summer time because it's iced and makes a yummy and cool drink at any time of the day. When drinking this I almost feel like it's a meal in itself and fills me up. I use calcium enriched almond milk because I like the taste and I try to avoid drinking too much cow's milk, but any kind of milk works. As you can see in the photo the drink is very chocolately, because I like my chocolate dark and strong, but you can adapt it to your taste.
I use the Chocolate Mix from my favorite chocolate maker Le Chocolat Alain Ducasse, it's a real delish! In the winter months this recipe can be warmed and with no ice added. Sometimes when I feel creative I'll add a few drops of vanilla extract to this drink, gives it an interesting tang!
1. Put all ingredients in a mixer until smooth. (add chocolate progressively in order to get the right dosage)
2. Add additional powerded chocolate according to preference
3. Add ice cubes to drink and enjoy !
Can be kept in a jar in the refiergerator for up to 2 days.
Related posts