Ingredients
For 15-20 balls
1 1/2 cups rolled oats
1/2 cup tahini
3 tbsp honey
1–2 tbsp oat milk or almond milk
1 tbsp chia seeds
1 tsp vanilla
1/2 tsp cinnamon
1/4 tsp salt
1/3 cup of chocolate chips
1/2 cup coconut or vanilla flavored plant protein powder (or coconut flour)
Optional: powdered dark chocolate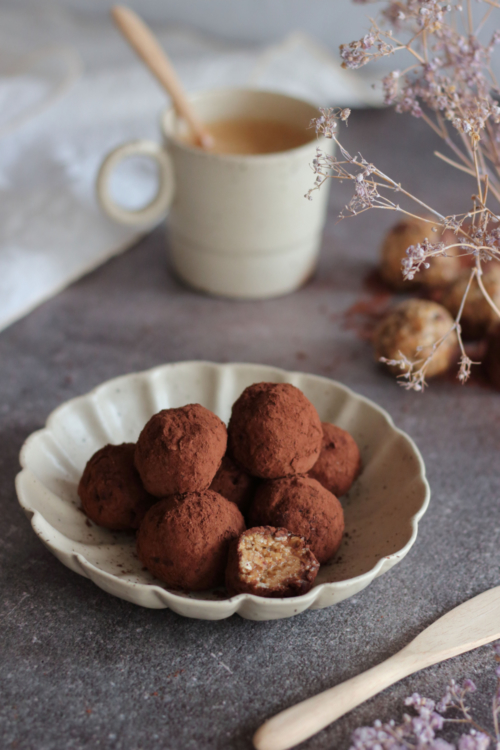 Healthy & good food will be the theme of today's recipe for Tahini Energy Protein Balls.
Eating the right foods can sometimes be tricky. We may think certain foods are healthy, but in reality they contribute to our body's weight gain, health complications (cancer, diabetes, cardiovascular problems, hormonal imbalances etc…) or simply lack of energy.
Knowing how to pick good nutrients in our daily diet is key especially when having moderate physical activity. What is considered as moderate physical activity is 1-2 hours per week. So yes, this can concern just about anyone and not just very athletic people! This actually also concerns people getting to a certain age as well, because the older we get the more our body stocks fat everywhere in our body, which can then lead to all sorts of complications.
We talk a lot about people needing to loose weight, but there are a lot of us out there with medical conditions that also need attention in nutrition. Or simply maybe this article will be for those out there who capitalize on maintaining their bodies healthy on a long term basis.
In this recipe you will find 3 major ingredients that are excellent for the body before or after physical activity, for people with medical conditions, or for people in need of energy : Raw oats, Tahini and Plant Protein powder.
Let's start with the scary ingredient in my list 😉 Plant Protein powder.
On a personal note I just started eating some myself. It took me years before I accepted to even consider it, until I increased my sports' routine considerably and felt my body craving food more than usual. Thankfully for me, my husband is not only a medical practitioner but has also become very athletic for health reasons as well – and has given me the right information sources to truly understand everything out there important for nutrition.
I'll try and make hours of conversations with him quick and simple here 🙂
A key macro-nutrient in this discussion is Protein. Why ? Because protein almost never transforms into fat stocked in your body. Instead, protein helps maintain muscle mass which is crucial to protect the body from major health problems (diabetes, high-cholesterol, obesity etc).
Muscle mass is important especially as we age because our basal metabolism (our daily calorie consumption) slows down. By slowing down, our metabolism stocks more fat everywhere in our body which in turn can cause serious health issues. Muscle mass helps increase our metabolism and thus helps with weight loss.
On a final note, eating protein before or after working out eliminates our cravings due to the physical strain our body has gone through. This will help our urge to eat the wrong foods that will automatically stock as fat in our body – taking all the benefits of working out away.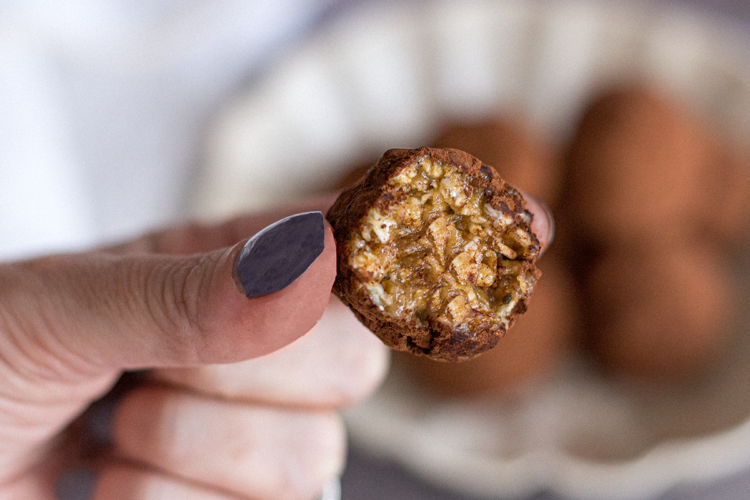 Why Plant Protein ?
Plant Protein is nothing un-natural for the body. For those scared to eat protein powder, remember that drinking coke or eating processed foods or smoking a cigarette is pure toxicity for your body yet some have no problem putting that into their bodies! So don't be afraid of supplementing with protein powder.
I would advise each person to check their intolerances before consuming any kind of supplement. That said, the protein powder I recommend for women would be plant based protein (pea protein, quinoa protein and hemp protein) due to possible interactions with hormones with other types of protein powders such as Whey. I also believe that men and women have different needs in this matter, and it should be addressed when choosing to supplement.
10 evidence based health benefits of Plant Protein powder:
Excellent Source of High-Quality Protein
Promotes Muscle Growth
Promotes bone mineral density
May Help manage Type 2 Diabetes
May Help Reduce Inflammation
May Be Beneficial for Inflammatory Bowel Disease
May Enhance the Body's Antioxidant Defenses
May Have Beneficial Effects on Blood Fats
Is Highly Satiating (Filling), Which May Help Reduce Hunger
Can Help You Lose Weight
If you don't want to add protein powder to these balls, you can add some coconut flour instead, and it will be just as good!
These energy balls are also packed with what you would call 'good carbs' with low glycemic index, important when working out on a regular basis!
Raw Oats are complex carbohydrates or "healthy carbs". Carbohydrates have been given a bad reputation throughout the years but the right kind of carbs are essential to our well-being. Carbohydrates are what give us physical and mental energy and they are also full of protein and fiber. Oats also have a specific type of fiber called beta-glucan which acts as a prebiotic for beneficial bacteria in our gut microbiome.
6 benefits in eating raw oats:
rich in fiber called beta-glucan
rich in plant protein
rich in zinc
rich in magnesium
rich in iron
Rich in selenium
The final main ingredient in this recipe today is Tahini, which is a paste made from toasted and ground sesame seeds. Tahini is relatively low in calories but high in fiber, protein, and an assortment of important vitamins and minerals. It has been associated with several benefits such as helping improve heart health & reducing inflammation.
These really tasty little energy balls have been a perfect post workout snack for me, killing my cravings and feeding my body with exactly what it needs. Sometimes I eat one or two 1 hour before my workout, which can also provide the energy needed for a bigger workout.
Made in just under 10 minutes, and kept in the fridge for up to a week!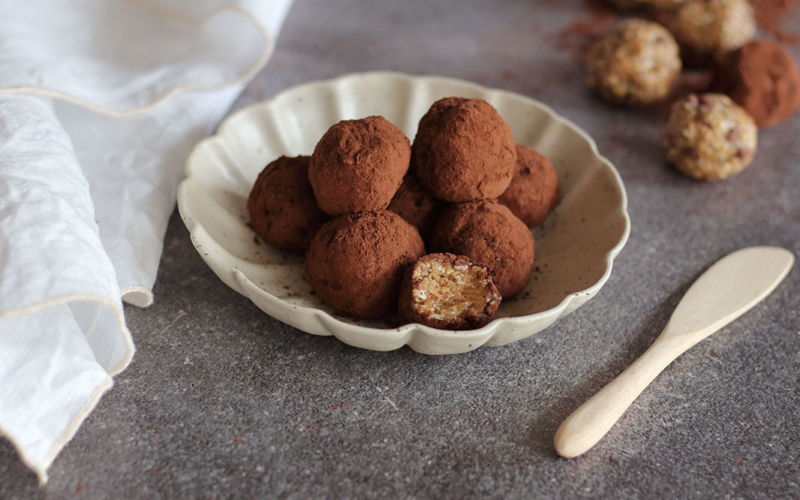 In a bowl, mix together the tahini, honey, vanilla, cinnamon, salt and either the protein powder or coconut flour and stir to combine.
Add in the chia seeds, oats and chocolate and mix.
Pour in your milk of choice 1 tablespoon at a time until everything comes together into a sticky ball. If you are using coconut flour you may only need 2 tablespoons or closer to 4-5 if using protein powder.
Roll the mixture into balls and store in the fridge
Optionnal: roll the balls in powdered dark chocolate