I don't often talk about my favorite places to eat out or my favorite brands. I'm going to try and focus a little bit more on that in the next few months because I have a lot to share with you – and I'd love for you guys to send me some of your recommendations too !
Today I want to talk about Le Chocolat Alain Ducasse, which is my favorite chocolate. Since it's Valentine's day soon and they just came out with this unique creation designed by the Artistic Director Pierre Tachon : the 'Heart to share', I thought it would be a good occasion to give this creation a taste. I won't lie, I have a soft spot for Alain Ducasse and everything he does since I worked for him up until last year… but I really doubt you will disagree with me on the quality of his chocolate which is one of a kind.
Alain Ducasse and Nicolas Berger (the Manufacture's artisan chocolate maker) have created this bean to bar chocolate production by selecting the beans from around the world based on their purity and personality. Passing through South America to Asia, the grand crus that are selected result in high quality chocolate that I have never tasted before. From one origin to the other the chocolate has it's very own personality and flavor that is unique in my opinion. It really changes from our supermarket chocolates…
I've always been a fan of chocolate (who isn't right ?!) but I have always detested praline, up until I first tasted the praline from Le Chocolat Alain Ducasse. So now this is the only chocolate I buy because once you've tasted it, there's no going back.. 🙂
I tasted this Heart to share and I really love the concept of having a half and half chocolate (milk and dark) with each side filled with a different ganache. Perfect for those sharing a chocolate treat but who have different preferences ! In my case I prefer dark chocolate and my husband prefers milk chocolate so it was the perfect match for us (yes we already ate it and didn't wait for V-day aha!).
One side (the dark chocolate) is filled with a vanilla almond paste and the other side (the milk chocolate) is filled with a tangy ginger ganache ! I thought I would like the vanilla almond best but turns out the ginger ganache was my favorite.
Where to find it ?
You can buy it online throughout Europe (and hopefully international soon!!) on this website: www.lechocolat-alainducasse.com
Or in several boutiques in Paris : www.lechocolat-alainducasse.com/en/stores
How much does it cost ?
Okay so it's not the cheapest brand out there but entirely worth it if you ask me. The Heart to share is at 18€ and the chocolate bar will go from 7€ to 10€ according to its origin and composition. The chocolates and other creations can go up to 100€ (for the big quantities) but I'd say it averages around 12-25€.
My favorite creations
Of course I think all of their chocolates are exquisite but if I'd had to make a shortlist of my favorite ones it would be:
Madagascar "Rustic" Tablette Tradition – Milk 45% : this very special chocolate bar has not undergone the "conching stage" in its production meaning it has a more granular taste allowing us to savour the bean and ingredients a bit more.
Pralinés "à l'Ancienne" : this is a box with an assortment of praline (milk and dark) chocolates of 9 different flavors such as Pistachio, almond, hazelnut, peanut or coconut.
Vanilla Pods Tablette Tradition – Dark 75% : this chocolate bar is one of my favorite due to the vanilla aroma mixed with the bitterness of the 75% dark chocolate.
Chocobar – Dark : this chocolate bar is a mixture of praline, dark chocolate and also dried fruit that is very gourmand. It also comes in its own little re-sealed box which is perfect to carry in a hand bag or to bring along for a snack for the kids.
Chocolate spread : for all the Nutella fans out there… here's a solution to finding a healthy chocolate spread! I'll say no more, just try it. 🙂 I personally can't seem to make it last more than 2-3 days once I've purchased it !
I'd definitely say that this chocolate is a must-try. For those of you who can buy it where you live you would be seriously missing out if you didn't !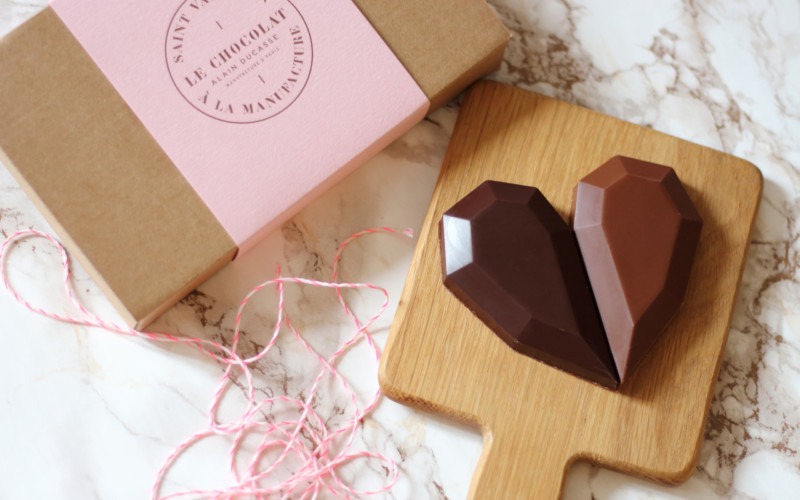 Related posts