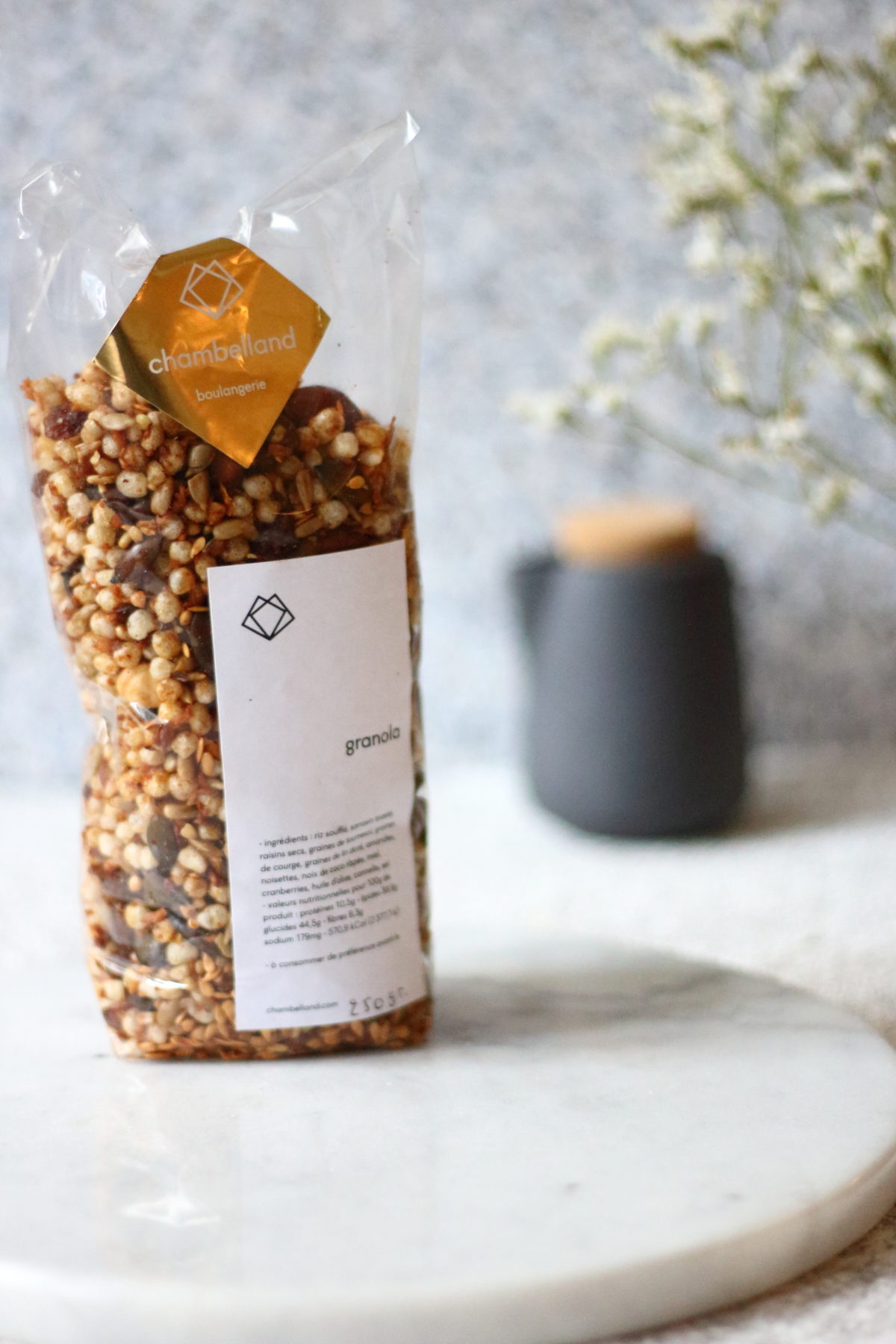 Chambelland is my favorite Gluten free Bakery in Paris. I find their gluten free bread & granola to be the best I've ever eaten by far – making me almost forget a good baguette.
Situated in the Popincourt neighbourhood of the 11th district of Paris, it was the first gluten free bakery to open in Paris by Nathaniel Doboin and Thomas Teffri-Chambelland and has even become a number one choice for high-end Parisian restaurants such as Alain Ducasse's 3-michelin starred restaurant Alain Ducasse au Plaza Athénée.
When creating what seemed to be a crazy project a few years back, the two owners wanted to provide a unique bakery experience, 100% natural and gluten free. They didn't hesitate to go all in to make the best quality products possible – and went ahead and built their own mill in the south of France to make their own rice flour with rice from Camargue.
Their bread – made from rice and buckwheat flour and several gluten free grains (poppy seeds, sesame seeds, sunflower seeds, flaxseeds) & also available with dried fruit (figs, apricots, raisin, hazelnut) – is crusty on the outside and moist and airy on the inside.
I've come to enjoy their bread so much that I now also buy their foccacia – which they use to make revisited italian style Piadinas (sandwiches) perfect on a lunch break – stuffed with olives to eat with some soup or to serve as an appetizer with some wine.
They also have a wide selection of gluten free pastries and cookies as well as a few treats that I like to have for breakfast.
Sugar bread – as they would call it – is kind of in between a brioche and a pastry and can be either with chocolate chips inside or orange flower extract for a more oriental note.
I also enjoy their coconut macaroons that come with or without chocolate chips and I find it to be a perfect breakfast option with a fruit on the side.
I'd say that the singularity of these treats ( such as their bread) is the moisture present in the dough – most definitely due to the exceptional quality of the flour.
I have never been a big breakfast person, but because of my medical treatments I now have to eat 3 meals per day at regular hours – it has become an obligation so that my medication can work properly. I therefore started eating healthy breakfast foods that will fill me up and give me the right amount of "fat" needed for my medication to work…
Eating pancakes and bacon every morning is just not possible without me gaining a lot of weight so I've started eating granola (amongst other things) with yogurt, nuts and berries.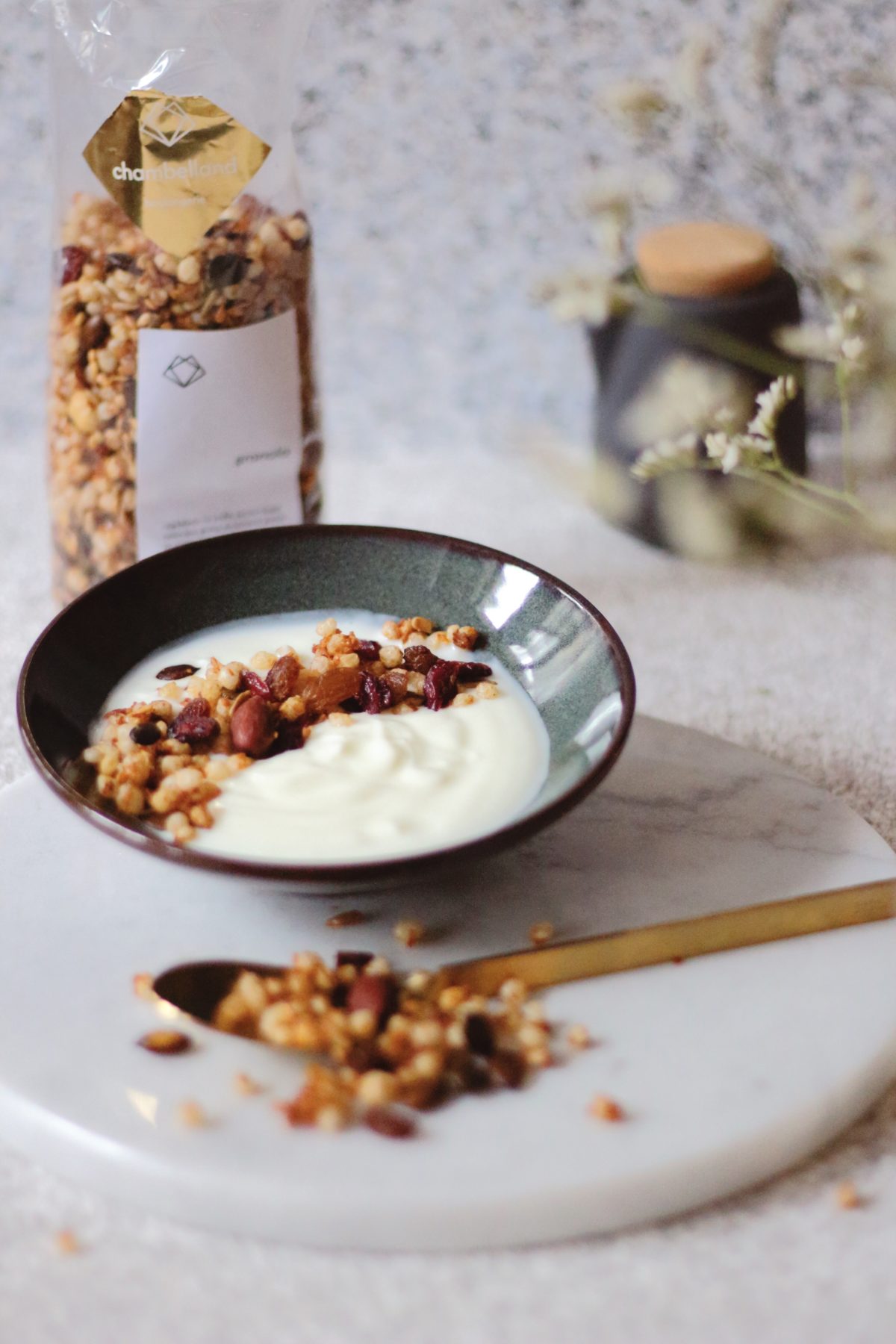 I was delighted to hear that Chambelland was now selling their own Granola so I went straight over to their bakery to test it ! Made with puffed rice, toasted buckwheat, hazelnuts, almonds, raisins and cranberries, it is simply delicious. Crunchy, light and tasty it's become my new favorite Granola brand. You can really taste all the ingredients and no additional sugar is needed in your yogurt when eating it with this Granola. I highly recommend it with some coconut yogurt or on top of some chia pudding.
This bakery is not only a shop where you can purchase their breads, pastries and flour for cooking at home, but is also a tea salon where you can have a warm lunch (Piadina's, soup) or coffee and a pastry.
It's a really great address that makes it more than enjoyable to eat gluten free.
Their opening hours are :
Tuesday – Saturday : 9am – 8pm
Sunday: 9am – 3pm
Le Chambelland – 14, rue Ternaux. 75011 Paris