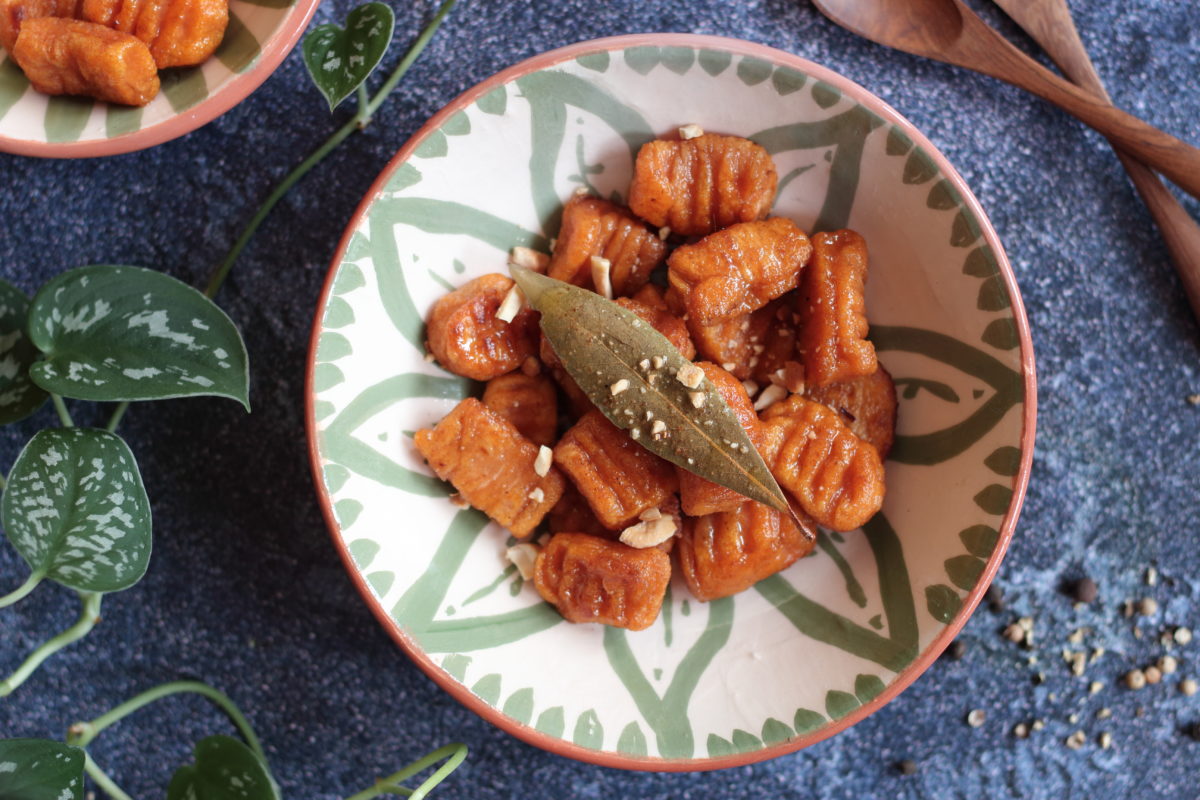 Don't you love a good seasonal meal? Fall is a great season for produce, so many yummy vegetables to cook with. I love sweet potatoes and always look for different ways to cook it. So here is one of my favorite fall recipes : sweet potato gnocchi with sage infused butter sauce and crushed cashew nuts on top!
I vary this recipe according to my mood, if I want it to be less fatty, I skip the creamy sauce and instead sautée them in a pan with some butter for a more crispy and caramelized taste, then I add some parmesan on top.
If you want to add some protein to it, why not cook some smoked sausage and use it as a topping by chopping it into little cubes.
The possibilities are endless, the base of the recipe is the gnocchi, then it's really up to you!
Cooking tips
Make sure your mashed sweet potatoes are soft and have no strings. Prepare it in advance and wait until it's room temperature before adding the rest of the ingredients.
Add half of the flour indicated below, and progressively sprinkle more or less until it gets to the consistency of a manageable dough. The trick is to add as less flour as possible. When measuring your flour, be careful not to pack it too much, it will take all the air out of it and will change the measurements.
Careful not to work the dough too much, it will beat all the air out of it and it will become sticky. Treat your dough with care, slowly fold the flour with a spatula, then when it starts becoming more doughy, finish kneading it with your hands.
It should form an airy, bouncy ball that doesn't stick and disintegrate in your hands. Top it with some flour or cornstarch at the end to help form the ball.
This recipe can take quite a while to prepare (1h30-2h). You can make the mashed potatoes a day before, or even can freeze the dough before cooking it and use it another time. Making a double batch and freezing half will give you a big head start for the next time you want to make this dish!
INGREDIENTS: (for 2-4 people)
Sweet potato gnocchi
3 cups mashed sweet potato (about 3 potatoes)
1 egg
1 tsp salt
1 ½ to 2 cups flour plus more as needed
Herby Butter Sauce
2 Tbsp butter
2 cloves garlic minced
Handful fresh or dried sage
¼ cup shredded parmesan
¼ cup heavy cream
Method:
Peel and cut the potatoes in 4. Cook in boiling water for 15 minutes or until soft. Mash them with a potato masher or fork until smooth into a large mixing bowl. Set aside until room temperature.
Measure 3 cups of the mashed potato and stir in the egg.
Measure the flour, add the salt to the flour mixture, then start progressively sprinkling it over the mashed potatoes. Fold gently to combine (see cooking tips above for a perfect dough). When the dough forms a loose and bouncy ball, it's ready.
Coat the dough with some flour and transfer to a well-floured surface. Cut the ball into 4 fist-sized portions then roll each of them out into ropes. Cut the ropes into about 1/2 inch pieces. If you want the classic gnocchi shape, gently press on the gnocchi with the back of a fork then re-shape with your fingers.
 Boil the gnocchi in batches in a large pot of boling water, until they rise to the surface. Remove from water with a slotted spoon and set aside on paper towel. It should only cook for 2-3 minutes max.
Melt some butter in a large saucepan and add some sage leaves, and garlic and let simmer on low-medium heat.
Add the cooked gnocchi to the butter mixture and brown them for 5 minutes. Serve with parmesan when done.
Optional:
Add some heavy cream to the saucepan if you want it to be more creamy.
Chop some smoked sausage into cubes and cook in another pan, then use as topping OR
Crush some cashew nuts on top.