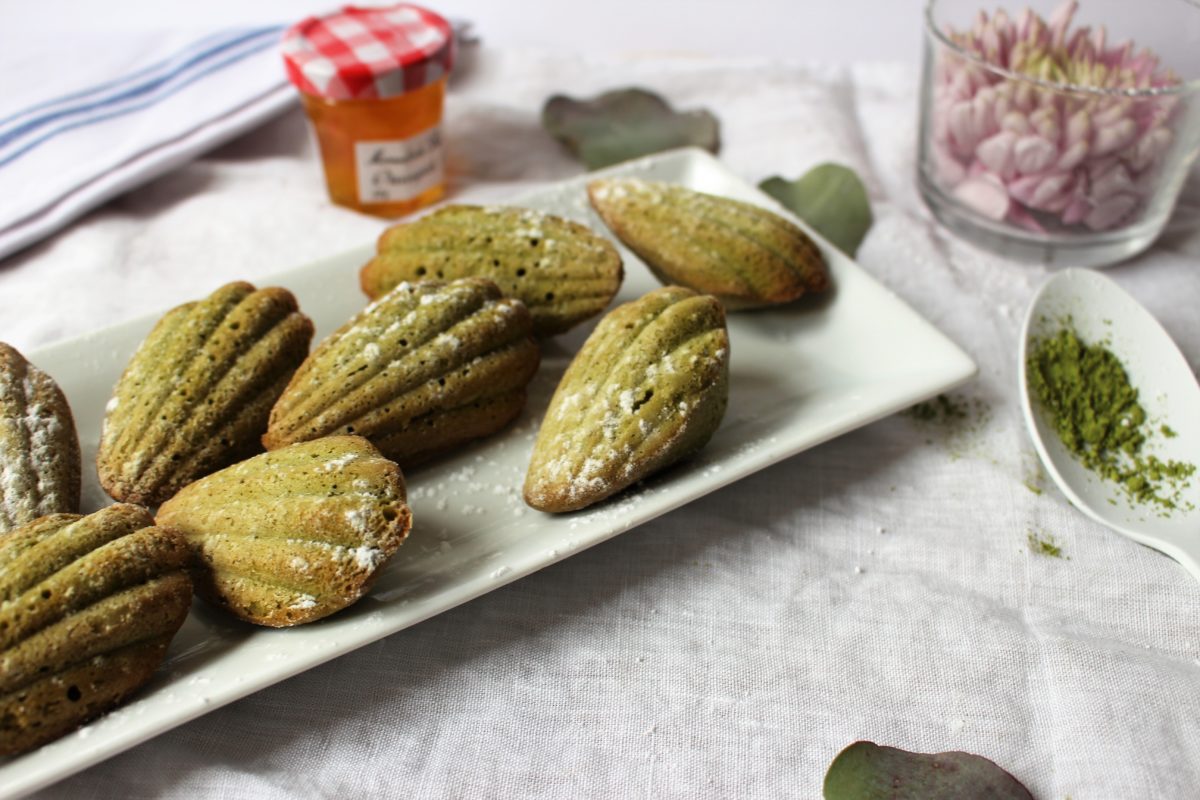 Calling all Matcha lovers ! This is a classic madeleine recipe combined with culinary Matcha. Don't be shy, madeleines are actually very easy to make, and they can be kept in a tightly sealed container for up to 5-6 days. Great for breakfast with a little bit of jam on top, or as a snack with why not some Sencha Japanese tea. 🙂
Did you know there was a difference between culinary Matcha and ceremonial Matcha?
Culinary matcha tea is to be used for a number of different purposes and more specifically used in baked goods. It is designed to be mixed into other ingredients and is more bitter and sharp in taste than the ceremonial Matcha tea. It is also much cheaper than the ceremonial Matcha. There is a real difference in taste, so if you're not a big fan of bitterness I wouldn't cook with culinary Matcha. This powder can also be added to smoothies as it is known to be an energy-boosting ingredient.
I hear Matcha has amazing health benefits but it is recommended not to exceed the equivalent of one cup of tea per day. This is because one cup of Matcha equals to 10 cups of regularly brewed green tea in terms of nutritional content. It also has 137 times more antioxidants than regularly brewed green tea because when you drink or eat it in baked goods you ingest the entire leaf and receive 100% of the nutrients of the leaf.
Here's a list of some of the benefits of this green tea powder:
○ Is packed with antioxidants including the powerful EGCg
○ Boosts metabolism and burns calories
○ Detoxifies effectively and naturally
○ Calms the mind and relaxes the body
○ Is rich in fiber, chlorophyll and vitamins
○ Enhances mood and aids in concentration
○ Provides vitamin C, selenium, chromium, zinc and magnesium
○ Prevents disease
○ Lowers cholesterol and blood sugar
Have I convinced you yet? 🙂 Seriously, give it a try in your recipes, it can't harm you and it gives a wonderful and original color to your baked goods!
A few tips for making perfect Madeleines:
○ Use room-temperature eggs as they expand in volume when beaten.
○ Rest the batter in the refrigerator for at least one hour.  3 hours is ideal. It helps to create the bump to form.
○ Don't be shy on butter when coating the molds.  It helps you take Madeleines out of the pan after baking as well as achieving nice golden color.
○ Use a 1 Tbsp. measuring spoon to transfer the batter.  It's the easiest way to measure the exact amount for each mold and not overfill.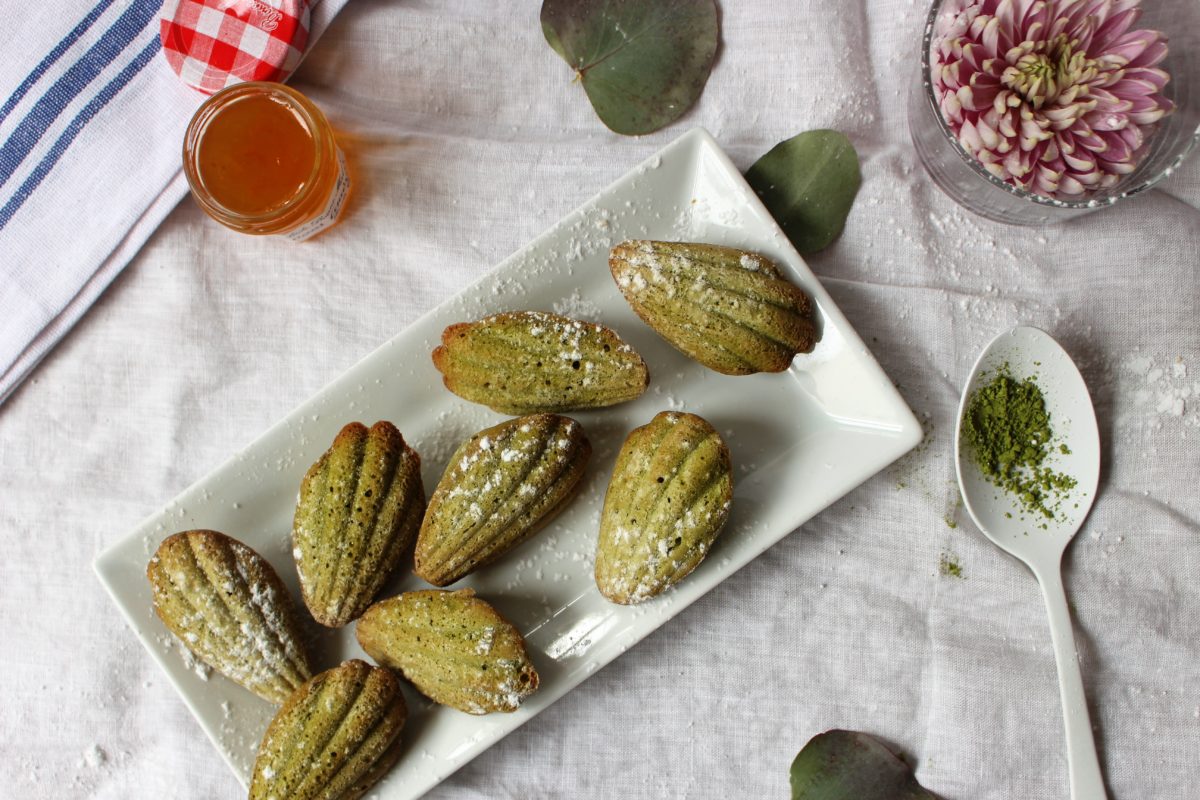 INGREDIENTS: (makes 24 madeleines)
○ 4 oz/1 stick unsalted butter, plus 1 Tbsp. for coating the pan
○ ⅔ cup (133 g) granulated sugar
○ 1 cup all-purpose flour, plus 1 Tbsp. for dusting the pans
○ Pinch of salt
○ 1 teaspoon. baking powder
○ 1 Tbsp. of culinary matcha powder
○ 2 large eggs, at room temperature
○ 1 Tbsp. milk, room temperature
○ 1 Tbsp. powder sugar, for dusting (optional)
METHOD:
1. Melt the butter in a saucepan over medium low heat.
2. In a large bowl add the sugar. Then sift the flour, a pinch of salt, baking powder & matcha. Whisk everything together.
3. In a medium bowl, combine eggs and milk.
4. Add the egg mixture into the flour mixture. Using a rubber spatula, stir until combined.
5. Slowly add half of the cooled melted butter. Blend the butter and mixture well before you add more butter. Mix until blended and do not over mix.
6. Cover the bowl and refrigerate for 3 hours, or overnight (highly recommended).
7. Preheat the oven to 375°F (190°C).
8. Melt butter in mircowave. Using a pastry brush, brush butter in the molds of madeleine pan. Then using a fine mesh strainer, lightly dust flour over the molds.
9. Fill each mold in the madeleine pan with 1 Tbsp. of the batter. Scoop the batter with a 1-Tbsp. measuring spoon and transfer into each mold. No need to smooth out the batter in the mold as it'll melt in the oven.
10. Bake for 11-13 minutes.