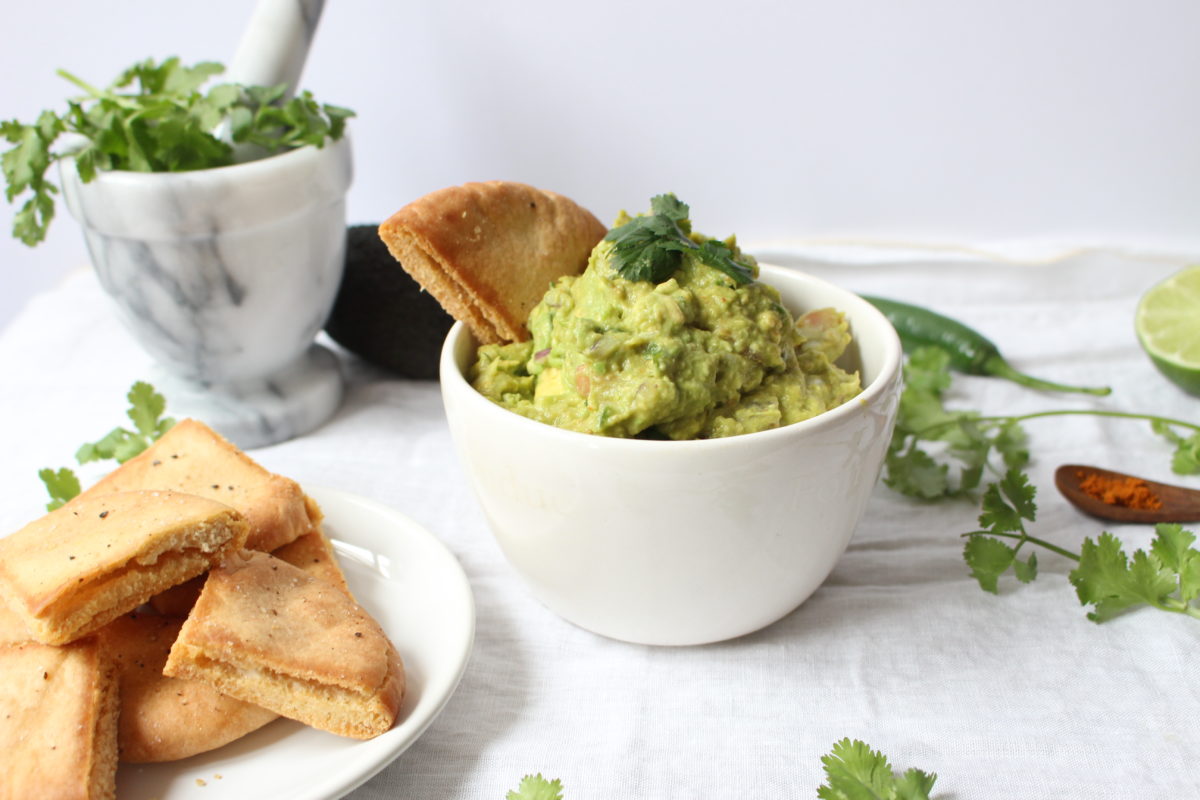 I hear spring has arrived even if it doesn't feel like it in Paris 🙁
Spring is a cool season because it's a period when you can start fresh, when new ideas are born, when flowers blossom and when people come out of their winter caves with joy and enthusiasm ! And of course it's the season where the good weather is back (supposedly) and you can put your winter coat in the closet for next year. Can you feel the mood ? 🙂 Arf, we'll get there…
Anyway, I'm feeling in the mood to organize some dinners and get-togethers, and hopefully soon some picnics in the park. I am sooo ready for this summer's festivities and vacation and want to cook it out!
Here's a recipe for some refreshing, chunky and tangy Guacamole with homemade Pita Chips perfect for these occasions. This recipe is so tasty it will have you reaching for the spoon instead of the chips !
The Pita Chips are I guess the healthier choice that replaces fatty tortilla chips, but let's face it, chips are chips. (you gotta live a little right ?!)
I like to eat Pita bread because some types of Pita breads are made with whole-grains, which gives you your daily fiber serving and limits a lot of problems such as high blood sugar, cholesterol, weight gain and more! The things we learn about food… 🙂
For the Guacamole, make sure to get perfect Avocadoes, that won't be too ripe and black on the inside, otherwise you'll be really disappointed with your dip. For the rest of the ingredients, I recommend being generous when adding them because it will give amazing savours to this classic dip. When eating it I feel like I have fresh greens in my mouth that I don't usually get when eating Guacamole.
For the Guacamole:
INGREDIENTS (serves approximately 4-5 people)
○ 4 ripe avocados
○ 1 medium tomato
○ ½ medium red onion
○ 1 large jalapeno
○ Juice from ½ lime
○ 1 Tbsp fresh minced cilantro
○ 1 teaspoon cumin
○ Salt & Pepper
METHOD:
1. Cut avocados in half and scoop out avocado pulp into a mixing bowl and mash it with a fork.
2. Seed and mince jalapeno. Mince red onion and dice the tomato. Add the vegetables to the avocados.
3. Squeeze in the lime juice and add remaining ingredients to the bowl, mix well. Taste to see if you need more salt.
4. Transfer into a bowl and wrap tightly with plastic wrap. Refrigerate until ready to serve.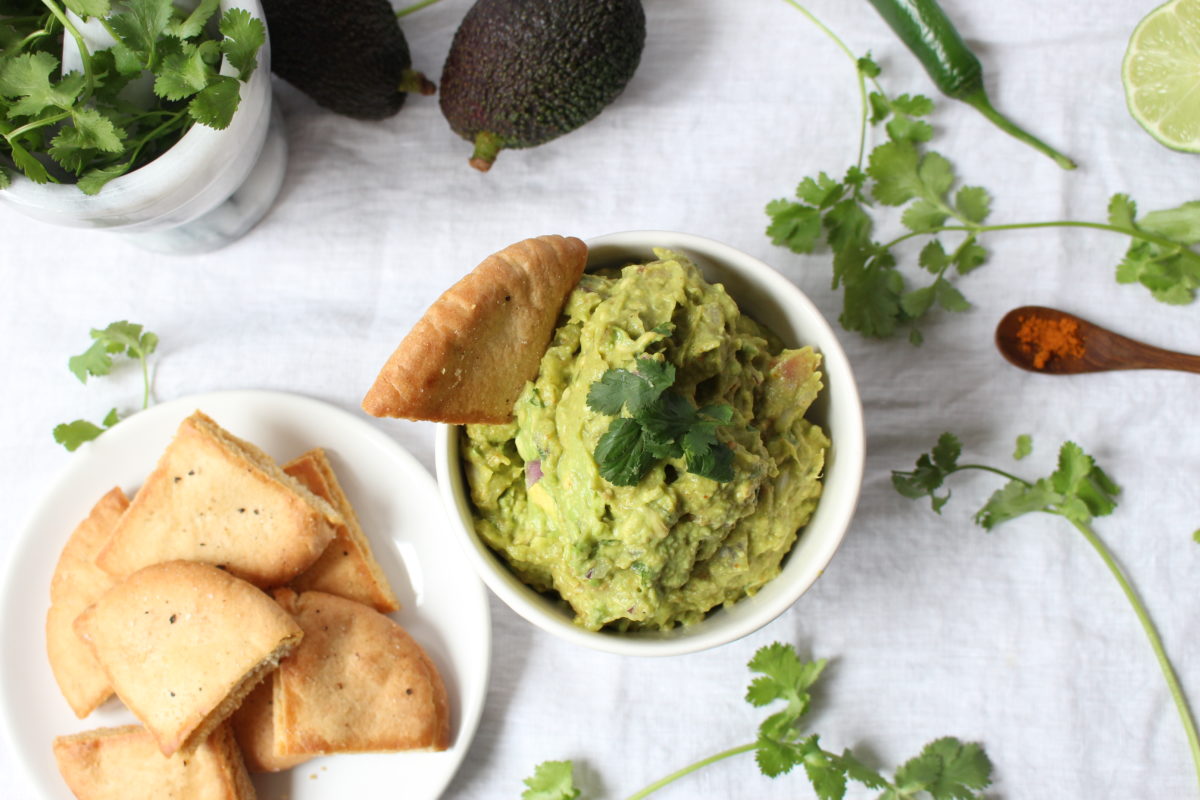 For the Pita Chips:
INGREDIENTS: (serves approximately 4-5 people)
○ 5 Whole Wheat Pitas, cut into triangles
○ Olive oil
○ Salt & Pepper
○ Garlic powder (optional)
○ Dried herbs (optional)
METHOD:
1. Cut the pita bread into 4 triangles. If you want thin chips open your pita in two before cutting into triangles.
2. Spread olive oil with a brush on each side of the pita, making sure they're fully soaked.
3. Add salt and pepper and optional herbs or seasoning according to taste.
4. Bake at 345°F / 175 C° on a sheet in the oven for about 20 minutes turning them over regularly.
5. Let cool down before serving.
Note: if you want to make them in advance, make sure to conserve them in a tightly sealed lid so that they won't get stale. Keeps 2-3 days max.