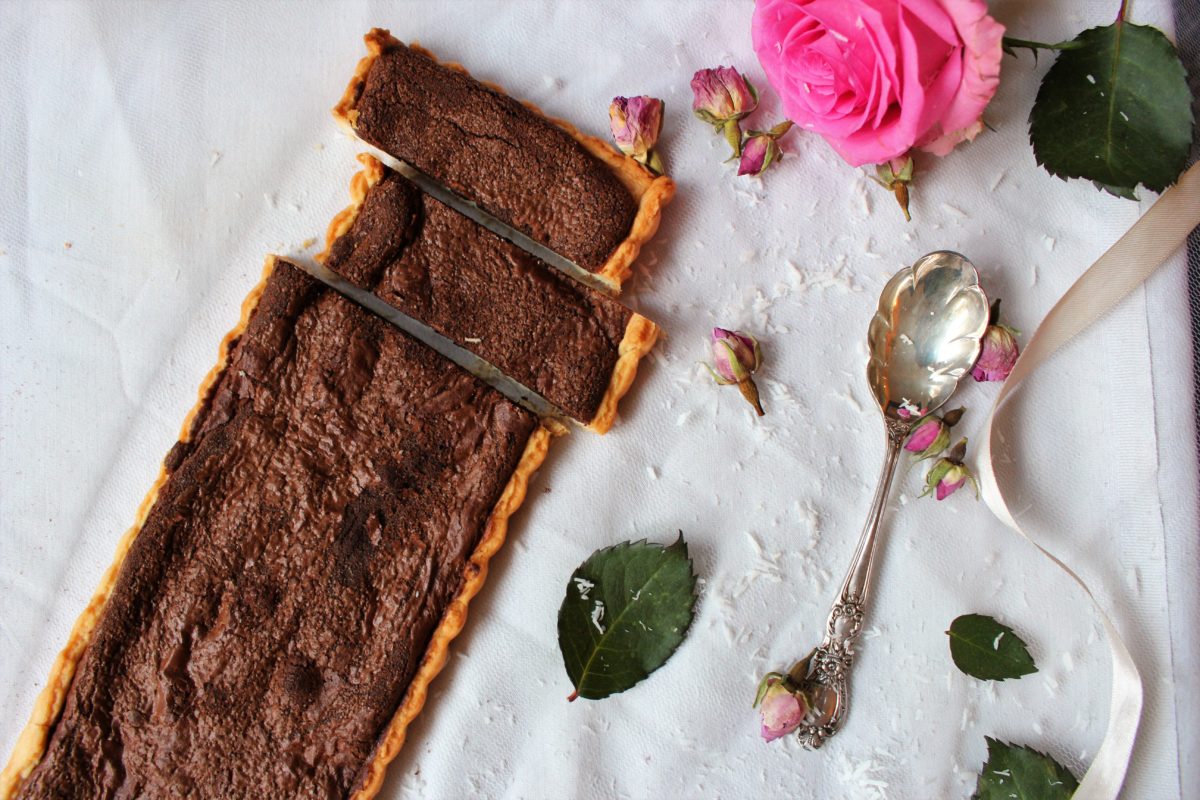 What better than a slice of Chocolate tart ? I don't think much !
I am in the mood for some comfort food and there are so many chocolate tart recipes out there. I've never been a big fan of them, until tasting this very special recipe.
It's a recipe that I got at my former job – at Alain Ducasse. For those who don't know who Alain Ducasse is, he's a renown French chef, with over 15 michelin stars in some of his many restaurants around the world. One of the perks of working for a great chef, is that you get to learn a lot about cooking, and of course benefit from all of his recipes.
This Chocolate tart was imagined by one of Alain Ducasse's chefs Christophe Martin working at the restaurant of 'La Bastide de Moustiers', a beautiful provençale Bastide in the south of France where you can stay and enjoy the beauty of the region. What I love about this recipe is that the chocolate ganache is very airy. It's almost like a mousse, compared to a lot of chocolate tart recipes out there that tend to be really rich and dense. The crunchy shortcrust pastry mixed with this light chocolate mousse is actually a nice treat for winter or summer. In winter with a nice cup of tea, and for summer why not with a scoop of vanilla ice cream.
For a better outcome, pick your chocolate wisely. I opted for 75% dark chocolate for cooking. This specific recipe calls for Alain Ducasse's chocolate maker Nicolas Berger's chocolate 'Le Chocolat Alain Ducasse', which I think is the best quality chocolate you'll find in Paris, but it's quite pricey. I'm all for the healthy choices, so I'd personally put the price into this chocolate ! 🙂
It seems easy enough to make but don't be fooled, it calls for some pastry techniques such as blanching egg yolks with sugar or making a butter cream. A tip for melting chocolate the easy way, if you don't want to bother with a bain marie : melt the chocolate in a bowl at 400 Watts in your microwave, but don't put in all in at once. Start with small pieces at a time and add the rest little by little.
Warning: depending on the size of your tart pan (for example I cooked mine in a rectangular and small tart pan) adapt the cooking time so that it's not overcooked and dry.
INGREDIENTS:
For the shortcrust pastry :
• 200 g of flour
• 150 g of butter
• 30 g of sugar
• 4 g of salt
• 10 g of egg yolk
• 40 g of milk
For the chocolate ganache :
8 eggs
300 g of sugar
200 g of butter
250 g of dark chocolate
METHOD:
For the pastry crust:
With your fingertips, mix the butter and the flour in a bowl until it is in crumbs. Then add the other ingredients : sugar, salt, egg yolk and milk.
Mix everything without overworking it (otherwise it will become elastic). Cover and cool in the fridge for at least one hour.
Pre-cook your pastry in the tart pan until the edges become slighty golden.
For the chocolate ganache:
Separate the whites from the yolks and blanch the egg yolks with the sugar.
Make a butter cream and add it to the egg/sugar mixture then melt your chocolate and add it to the mix.
To finish, mount egg whites and add them to the mixture.
Pour the mixture in the tart pan pre-cooked then cook in your oven at 170° (338° F) for 15 minutes.