Ingredients
For 2 servings
For the salad:
? 2 small sweet potatoes, halved lengthwise
? 4 tablespoons extra-virgin olive oil
? 2 skin-on salmon fillets
? 1/2 teaspoon grated ginger
? Juice from half of a lime
? 2 celery stalks, thinly sliced on a bias
? 1 small Asian pear, cut on an angle into chunky pieces
? 2 sliced scallions
? toasted sesame seeds
? A pinch of salt
Homemade Ponzu sauce : (for 1 cup)
? ½ cup soy sauce
? ½ cup yuzu juice
? lemon zest from one lemon
? 2 Tbsp mirin
? ½ cup katsuobushi (dried bonito flakes) (6 g = 8 Tbsp packed)
? 1 piece kombu (dried kelp) (6 g or 2″ x 3″ strip)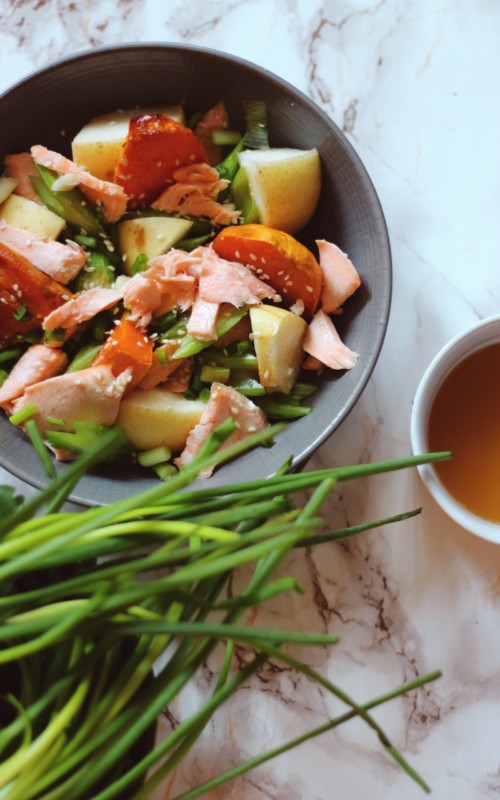 I often inspire myself with different cultures when cooking. Maybe it's due to my bicultural background, but it fascinates me to learn how to cook with ingredients that I'm not used to cooking with on a daily basis.
If it's new to me, with interesting combinations, is tasty and brings positive health benefits to the body, I'm all in.
Lately I have been focusing on the Japanese culture after travelling there last summer and I am now convinced that part of reason why the Japanese are so much healthier and live longer than the rest of the world is because of their way of eating.
Living in France and not having had their culinary education, I can tell you that it's a hassle to cook Japanese food on a daily basis. First of all buying the specific produce and ingredients can be tricky, and if you decide to make sauces and such from scratch – good luck with the pile of ingredients, utensils and steps you have to go through before getting some kind of result. The point is that the Japanese are better at it than us, our culture and eating habits are so different that it's normal not to know how. (or at least after my many failed attempts to make mochi or good sushi – that's what I tell myself 😉 )
What I did notice when travelling there for almost a month is that all my digestive problems disappeared after only a few days of eating their food. This is no joke and no, it's not in my head for the non-believers 😉 . My body had never felt healthier even under the extreme weather conditions I was travelling in (104°F and 100% of humidity).
Sooo, I try to remember some of the tricks I learned in Japan, and adapt it to the foods we have at hand here and that we like to eat. Don't get me wrong, I love French food, I love American food, Italian food, Indian food etc, so I eat a little bit of it all, mixing savours and mixing ideas because why not ?!
This recipe – that I adapted from Bon Appétit Magazine where I originally found it – is a perfect example of what I love in cooking. It calls for my favorite fish, Salmon roasted in the oven for more tenderness (roasting it makes softer flakes) and then cooled down in order to eat in a cold salad. I love cold salmon, one of my favorites ! This sweet and sour salad combines salmon with roasted sweet potatoes, celery and Asian pear for an explosion of aromas. It turns out Asian pears are used a lot in the Asian culture as a sweetener to dishes, having a subtle juicy flavor not adding too much sweetness but just enough to work amazingly with ingredients such as fish, sweet potatoes or soy sauce and sesame oil.
As for the seasoning, it calls for a Japanese Ponzu sauce. Ponzu sauce is the Japanese vinaigrette, made of soy sauce and citruses such as yuzu. It is used for salads, tofu dishes but also fish or meat dishes. I went to great lengths trying to find this sauce that can usually be found already made, which in the end I wasn't able to find in my local Asian supermarket… I figured I had time on my hands so why not make it entirely from scratch myself. Well the real ponzu sauce is not only made of soy sauce and yuzu, but a bunch of other things that are also hard to find, like bonito flakes and kombu (dried kelp) ! Arf. So in these situations you have to adapt yourself which is exactly what I did. I found two solutions:
1. Make a somewhat ponzu sauce myself, with the ingredients I am able to find which are soy sauce, mirin, yuzu and lemon juice
2. Use a different Japanese salad dressing (wafu dressing)
I ended up trying both and both really work perfectly with this salad. So don't get discouraged by these types of recipes because you can't find the ingredients, everything can be adapted with what you have at your disposal!
For the salad:
1. Preheat oven to 325°F. Coat potatoes with olive oil on a baking sheet; season with salt. Arrange potatoes cut side down and roast until tender, 30–40 minutes.
2. When potatoes are halfway done, coat salmon with olive oil on another baking sheet; season with salt. Roast salmon until just opaque in the center, 16–18 minutes.
3. Break potatoes and salmon into large pieces. Divide potatoes, salmon, celery, and pear among plates.
4. Drizzle with ponzu dressing or wafu dressing and the lime juice, then top with scallions and sesame seeds .
For the homemade Ponzu sauce:
1. Combine all the ingredients in a sterilized mason jar and mix well. Steep in the refrigerator overnight or up to a week
2. After steeping, drain over a sieve to get rid of katsuobushi and kombu.
If you cannot find the dried bonito flakes or the dried kelp, try making the sauce with the other ingredients adding a bit of sesame oil.