Ingredients
For 3-4 servings
2 1/2 cups peeled and cubed butternut squash
1 half of yellow onion, chopped
2 Tablespoons coconut oil
1 teaspoon fresh ginger, grated
1 teaspoon salt
2 1/2 – 3 cups veggie broth
1 teaspoon curry powder
1 teaspoon black pepper
1/4 teaspoon ground cumin
1/4 teaspoon turmeric
1 Tablespoon nut butter (I used almond butter but cashew butter or peanut butter works too)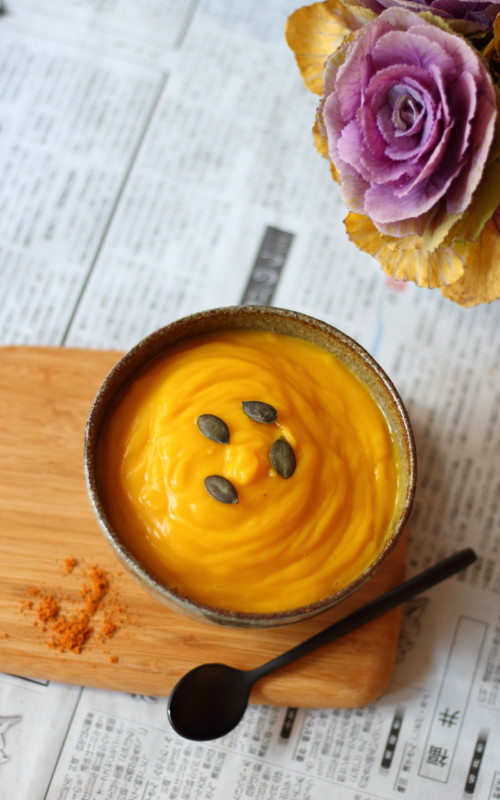 It seems that a lot of my cooking inspirations come from the weather (how original 😉 ! ). I realize that everything I cook is according to how warm it is outside (or not), and of course according to the produce in season. Then again who wants to eat a cold tomato salad when it's freezing outside ?! These days I've been getting my Staub dutch oven out for soup and ragout season, just like animals who prepare for hibernation. 🙂 I've been wanting to eat warm, solid comfort foods, but unfortunately it has gotten a little out of hand because I'm eating lots of non-gluten free foods, sweets, cookies, cheese… and chips… My face isn't liking my new ways I feel like I'm a 15 year old battling through puberty again aha !
So, when this happens – because I am human after all, I love my junk food like everyone else – I plunge myself into creative mode and start cooking easy and classic meals but giving them a healthy and original touch. It helps me get over my weird cravings – that are so totally emotional in my case (eat or don't eat to cope with anxiety, stress, emotions etc…) and also helps me remember that you can satisfy your taste buds with a gourmand soup 🙂 !
Last night one of my husband's friends came over for dinner and usually I would never serve soup to a guest as a main course without feeling like I've slacked off, but this time it was definitely a go.
The thing with this soup is the dosage and combination of spices as well as an asian-inspired ingredient that reminds me a lot of Thai cuisine I had when I travelled to Thailand a few years back : nut butter. You heard me right, nut butter! In my case I used organic almond butter, but any kind of organic nut butter does the trick. It is often used in thai soups and it really gives it a creamy, smooth and savory touch that I really enjoy.
A big bowl of this soup with some gluten free bread and some little goat cheeses makes a perfect and satisfying dinner. You can have fun with this recipe, garnish the soup with sunflower seeds, or add some chopped grilled chorizo on top, or why not some coconut yogurt. The possibilities are endless!
1. Cut and seed the butternut squash in big chunks and boil with skin in water until tender (15-20 minutes) but not overcooked. Once cooked peel the skin off and set the squash aside cut into cubes.
2. Chop the onion and heat on soup pot, or dutch oven with the coconut oil. Season with salt and when onion gets translucent add the grated ginger.
3. Add the cubed butternut and salt and pepper to taste. Stir in with the onion and ginger.
4. Add the broth once all ingredients have simmered together for a few minutes and put the lid on for 5 minutes or until the broth starts to boil.
5. Once boiling, turn down to a simmer. Add the curry powder, salt, pepper, cumin and turmeric. Allow to simmer another 3-5 minutes.
6. Add the nut butter and stir into soup base until mostly dissolved.
7. In a blender, puree the soup until completely smooth.
8. Season with more salt and pepper if desired. Garnish with raw pumpkin seeds and a swirl of coconut yogurt.