Ingredients
Makes 2-3 dozen
? 4 egg whites
? 1/2 cup granulated sugar
? a dash of salt
? 1/2 teaspoon almond extract
? 1 teaspoon vanilla extract
? 4 cups unsweetened coconut, shredded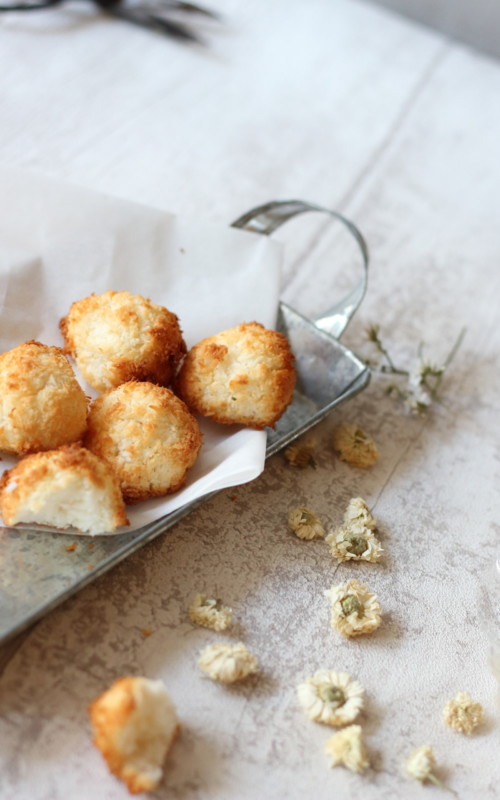 These healthy little treats are good for breakfast, as a mid-day snack or for dessert with a fruit salad or with ice cream. I would also say it is a good energy boost just before a work out!
Coconut is one of my favorite foods, I really love the taste it gives to my baked goods, or even when simply cooking chicken breasts ! Since a very young age I've been eating coconuts and drinking coconut water – maybe due to my parent's choice of vacation destinations 😉 but hey who's judging !
But – yes there's a but – it seems to be a controversial subject these days, and honestly I don't know what to think about it anymore. If you ask me they're all ruining my pleasure of eating this amazing fruit ! 😉
What you read online is not always reliable but the bottom line is the following: coconut everything is all over our supermarkets these past months – whether it's coconut oil, coconut milk, coconut flour, shredded coconut, desiccated coconut, coconut water, coconut butter (and more!) – and it's used a lot in healthy recipes, promoted as the better choice because it's high in protein, high in fiber, minerals and vitamins and may even be considered as a superfood. People also use it on their faces as makeup removal, or in their hair for strong healthy hair.
On the other hand studies have shown that coconut oil is actually full of saturated fats and not the good kind, that it would actually be more fattening than lard or beef fat ! It is also said that coconut oil may clog your pores when put on skin.. So the coconut business is now being redefined as a sham and not that healthy after all.
The point I'm trying to make is that I am not going to write an article on all the benefits of coconut and how great it is for your body, because honestly I hear new things about it everyday that confuse me and I just don't care anymore! In my opinion, it's good and as long as it's cooked with other reasonable ingredients (not too much sugar, not too much butter) and is consumed with moderation, I don't see why it shouldn't be a healthy choice! Oh and they're gluten-free too 🙂 , so it's a win !
These little coconut balls are super easy to make with just a few ingredients. Considering the quantities of non sweetened shredded coconut and egg whites, the amount of sugar isn't excessive which leads me to believe that these aren't too fattening. With a bit of almond and vanilla extract it gives them a little kick that I enjoy a lot!
You can spruce this recipe up if you feel creative, and add some chocolate chips or even dip them in melted chocolate once cooked.
1. Preheat oven 350 degrees. Line a baking sheet with parchment paper.
2. In a large bowl add egg white and beat until thick and frothy.
3. Add sugar, salt, almond extract, and vanilla extract and beat until combined.
4. Add coconut to egg white mixture, and fold in until combined.
5. With a small cookie scoop or two spoons, scoop the mixture into 1″ balls. Place on the baking sheet, about 1-2″ apart.
Bake for about 15 minutes, or until the coconut balls are golden brown.
Related posts