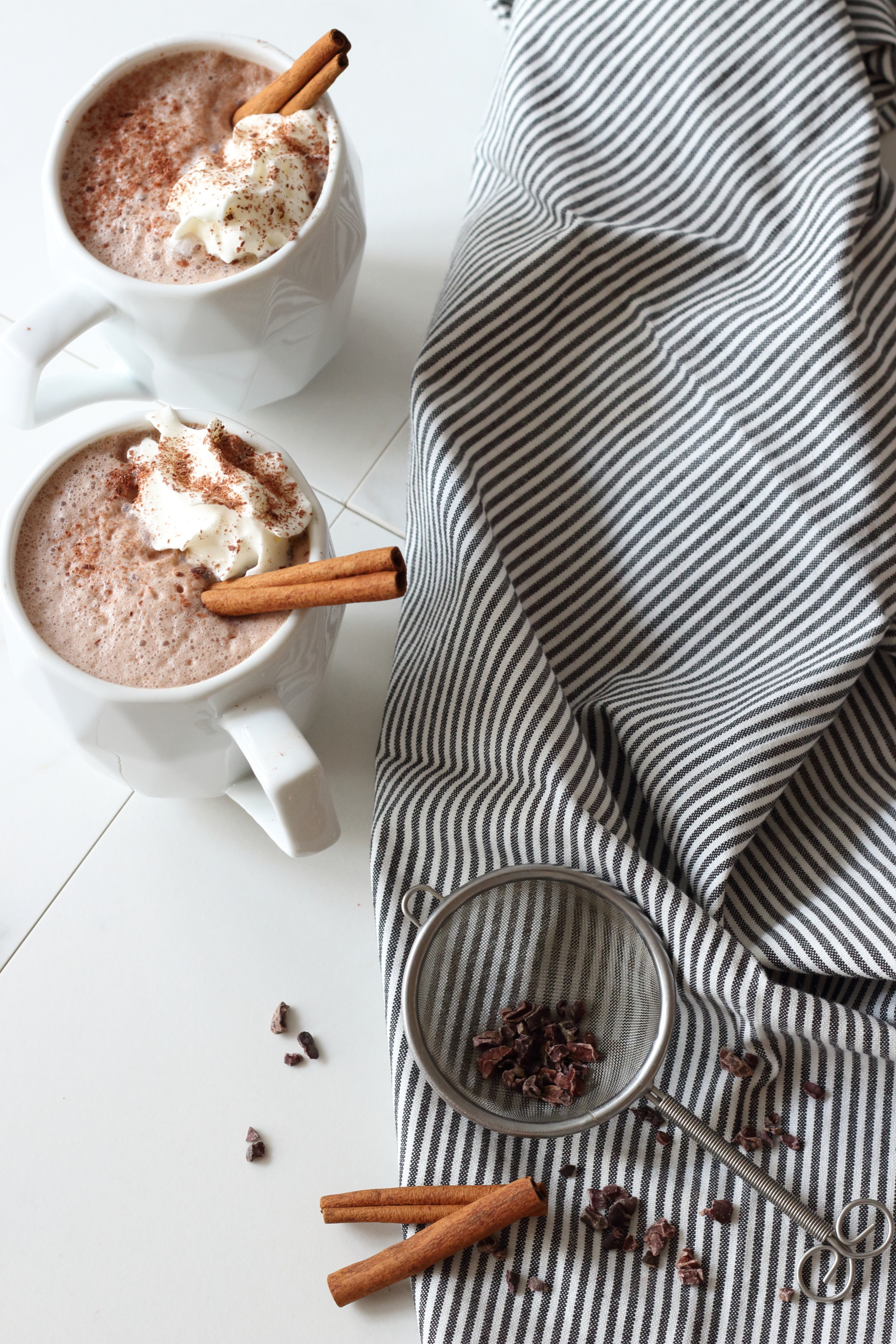 Who dosen't need some comfort food once in a while ? Well I know life wouldn't be as sweet without it 🙂 .
I've always been a big fan of hot chocolate as a little girl, and even now I still have a cup of hot cocoa once in a while. Reminds me of snowy winters cuddling up near the fireplace in the countryside while reading a good book or playing board games. It's also one of my favorite Sunday morning beverages, for brunch or just for lazy sundays binge watching shows on the couch (oh don't act like you don't do it too 😉 ).
The thing with hot chocolate is it's often full of calories, and for those who are lactose intolerant or just try not to drink too much milk for health reasons it's not very diet-compatible. I guess it also all depends on what you eat alongside the hot chocolate, and the rest of the day ! I'm all for letting ourselves indulge in our favorite treats, as long as it's with moderation and well balanced in a daily diet I don't see why not!
The recipe I'm going to share with you today is kind of special, it's not your classic hot chocolate – except for the chocolate none of the ingredients are what you usually have in this drink. But the good news is that it's really good and it tastes just like a hot chocolate but with a slight tang.
It not only calls for almond milk – which is nowadays more and more consumed with other "milks" such as Soy milk or Coconut milk, but it also calls for one of my favorite superfoods: Maca.
Maca is a Peruvian root, member of the cruciferous family, like cabbage and broccoli, but is considered as one of the most natural superfoods due to its many health benefits. This adaptogen is great for balancing hormones, having a positive effect on energy levels and is a natural health booster. It is also known to have higher calcium levels than milk.
You will find this superfood in powder form in organic stores and has a nutty vanilla flavor that is quite strong. It can be surprising at first but if you have open minded taste buds there's no reason why it shouldn't blend in perfectly with your recipes.
I use it a lot in shakes – goes well with bananas, coffee or chocolate amongst other ingredients. You can also just mix a small teaspoon into your morning coffee, to give you a boost for the day.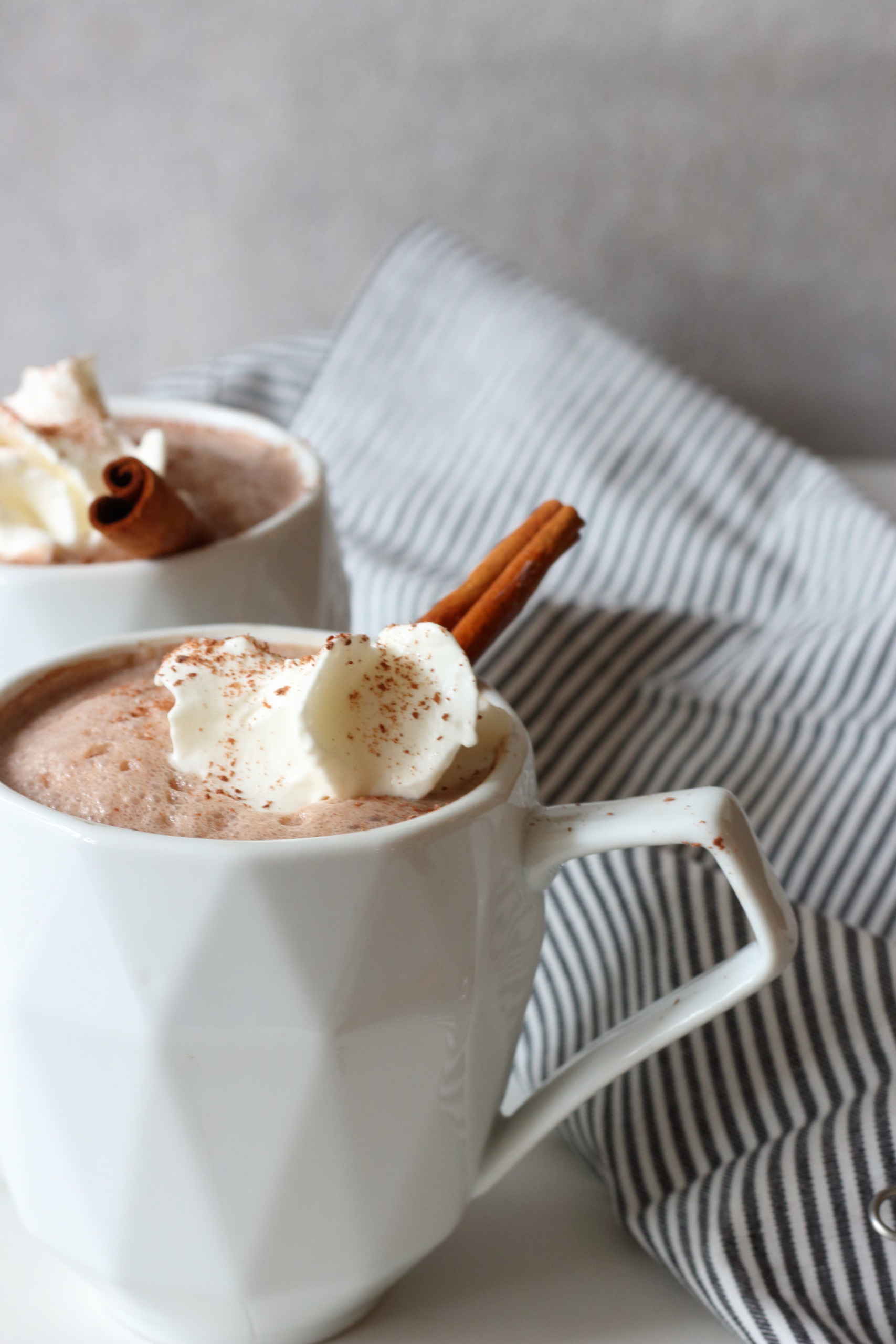 A reasonable dose of coconut oil, homemade coconut whip & maple syrup for flavor and natural sweetening, the final touch to this beverage is a pinch of cinnamon a well as a cinnamon stick used as a spoon to stir and scoop up some coconut whip. Cinnamon fans, prepare to be dazzled because the association of chocolate – maca – coconut – cinnamon is to die for! Healthy and natural ingredients are in this drink as well as good calories.
Try the recipe below with the indicated quantities, then adjust according to your taste. Add more chocolate if you want it more chocolatey, add less maple syrup if it's too sweet for you, more or less almond milk if you like your hot chocolate thick or not. It's up to you! It can also be replaced with soy milk if you prefer, but I wouldn't put coconut milk since the recipe already has coconut oil and coconut whip.
The coconut whip and chocolate shavings on top are of course optional.
INGREDIENTS : (serves two cups)
? 2½ cups almond milk
? 2 tablespoons cacao powder
? 1 tablespoon maca powder
? 2 tablespoon maple syrup, or to taste
? ½ teaspoon coconut oil
? pinch of cinnamon
? tiny pinch of sea salt
optional toppings:
? coconut whip (see homemade instructions below)
? shaved dark chocolate
METHOD:
1. In a blender, mix the almond milk, cacao powder, maca, maple syrup, coconut oil, cinnamon and salt. (You can also whisk this together by hand).
2. Transfer to a medium saucepan and heat. Taste and adjust the sweetness if desired. If it's too thick, add a little bit more almond milk.
3. Serve with coconut whip and shaved dark chocolate, both optional.
Coconut Whip:
? solids from 1 (14-ounce) can full-fat coconut milk, refrigerated overnight
? ? cup powdered sugar
? Few drops of vanilla extract
1. Make the coconut whip by combining the ingredients in a mixer and mix until whipped and fluffy.
Recipe taken from the website www.loveandlemons.com