Hey peeps ! I feel like I've been away forever. I'm glad to be back. 🙂
This summer sure has been busy and full of travelling, but it was good to get away and spend some time reflecting on my life, future projects and goals. I won't lie, coming back to Paris was great and depressing at the same time. I missed my appartement a lot, my bed, everyday habits and comfort, but I sometimes don't miss the hectic Parisian life. Being away for so long makes me realize how much stress and superficiality there is here which makes it hard to live in a healthy and simple way.
As most of my friends & family know now, I have made major changes in my life these past 6 months: I quit my job and the stress of working in big and demanding companies (so worth it!!), I completely changed my eating habits – now eating almost exclusively organic and gluten free while listening to my body's needs an reactions to certain foods – I have taken up meditation and mindfulness on an everyday basis, and now my new challenge is to treat my body through aromatherapy whether it's for inhaling, ingesting (why not in some of my recipes !) or to rub on my body. In short, I have eliminated all that was toxic in my life (physically and mentally) in order to live & work by my passion for what I call "healthy cooking".
Let me tell you, this is a full time job and hours of documentation 🙂 but I feel like I'm discovering myself through all of this. Having a very fragile health, medicine has always been a huge part of my life, and thank God for it, but today I feel ready to enforce my body in a more natural way that will hopefully help my health in the long run.
I feel like eating organic is almost impossible today, or to say the least is a privilege for the more fortunate or for those who are lucky enough to have their own garden and animals where they can grow their produce. At least that's how it is here in Paris which is a real struggle for those of us trying to get back to basics.
It's to the point where a lot of organic foods that you buy in your everyday supermarket aren't really organic, but that's a whole other debate that I won't get into here 😉 .
So it's time to get back to all of it and I feel this year will be tough, but hopefully will all be worth it in the end. Even my husband is noticing the benefits of this lifestyle change for himself. Since I'm the one who cooks at home, he basically has no choice but to follow my lead which he initially had a hectic approach to, but now he's asking for it and is feeling the benefits on his body too!
After spending the summer in different countries, eating their food, sleeping weirdly and dealing with major jetlag, my body was out of balance for a good 2 weeks when I returned. I ended up getting sick while travelling and needed a lot of rest these past weeks, but by putting the right foods in my body and by combining my body with my mind I was able to fight it off without having to call my doctor and get major treatments. This is a first for me so I'm really proud to share this with you today. 🙂 Never underestimate the power of self-healing and never forget to observe and listen to your body's needs.
Anyway, so I'm back on track with my GF and Vegan recipes (even if I'm not a vegan, I feel it's good to purge my body from time to time) and my goal has been to make healthy foods that give me energy and help with the appetite loss I've been having due to my health issues. This is why I chose to make these really yummy Madeleines yesterday. They're GF (but don't have to be, works with regular flour), and vegan – meaning no eggs and no animal milk. I never thought they would turn out good nor that they would rise, but they turned out great!
Dipped in soy milk chocolate with crushed pistachios gives the final touch that makes them a gourmand treat which is exactly what I needed and maybe you too ?! 🙂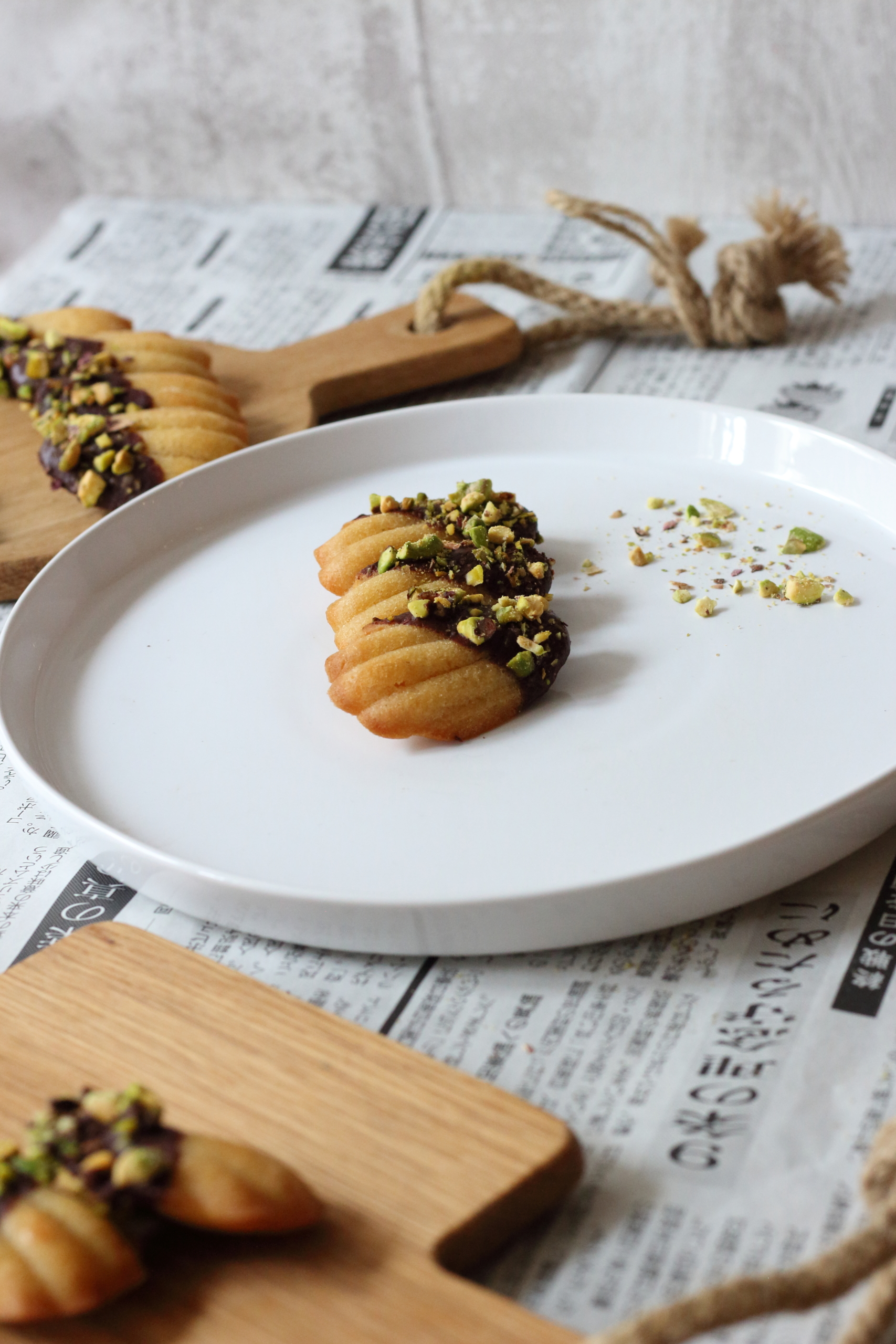 I would say the tricky part for this recipe is the gluten free flour. This recipe calls for a gluten free flour mix, which annoyingly enough I cannot find in my local organic store. So I make my own mix, composed of different flours (corn flour, rice flour etc) according to what I have on hand, which I associate to baking powder in order to ensure that my batter will then rise. I had to slighty adapt this recipe but if you can acquire a gluten free flour mix it's probably the easiest way to go and will ensure a good outcome. You can also just use regular flour, don't get scared off with the gluten free and vegan ingredients 😉 .
Note: these are best eaten the same day, but will keep for a day or so in a tightly sealed container.
INGREDIENTS: ( makes 12 servings)
For the madeleines:
135g (2/3 cup + 1 tablespoon) gluten-free plain flour
3 tablespoon icing sugar
1 teaspoon baking powder
60ml (1/4 cup) melted coconut oil
125ml (1/2 cup) soya milk
1 teaspoon apple cider vinegar
2 teaspoon vanilla extract
cornflour, to dust the madeleine tin
To garnish:
75g (3 oz) vegan dark chocolate
4 tablespoon soya milk
50g (1/3 cup) chopped pistachios
METHOD:
1. Preheat the oven to 180ºC (350ºF). Grease a madeleine tin and dust with cornflour.
2. Combine the milk and apple cider vinegar in a bowl and set aside to curdle.
3. Add all the dry ingredients for the madeleines to a large mixing bowl. Make a well in the center and pour in the wet ingredients, including the curdled milk. Fold them in gently until no lumps remain.
4. Drop about 2-3 teaspoons of the batter into each madeleine cavity in the tin. The batter shouldn't touch the sides, but should mostly fill the cavity. The madeleines will expand as they bake, however, you don't want them to become larger than the size of the cavity.
5. Bake for 18 minutes, then cool on a wire rack.
6. Meanwhile, prepare the chocolate and pistachio garnish: in a small pan over low heat, warm up the soya milk and add the chopped chocolate. Stirring with a spoon, melt the chocolate. When it is glossy and no lumps remain, remove from the heat.
7. Dip each cooled madeleine into the melted chocolate and then into a bowl of chopped pistachios. Place on a plate to set.
Recipe taken from www.thevegancookiefairy.com