Ingredients
For 2-3 glasses
? 2 cups almond milk
? 2 teaspoon matcha powder
? 2 teaspoon agave syrup
? 1 teaspoon vanilla bean extract
? Ice cubes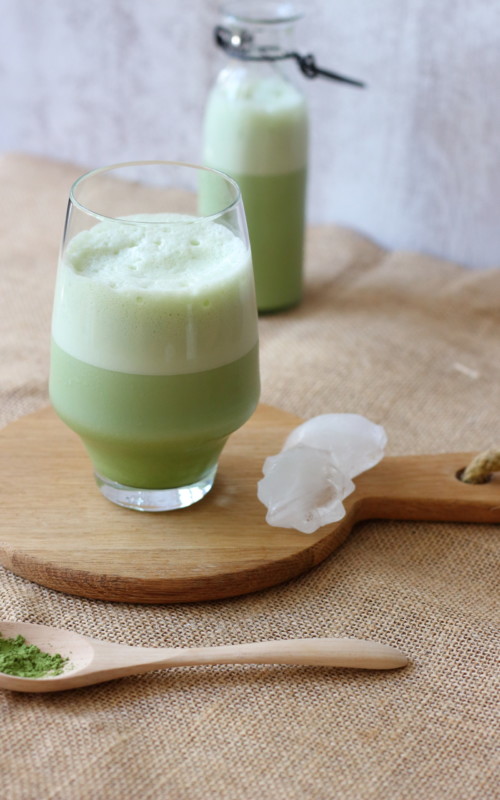 This week I'm starting off as healthy as possible. You see, I'm off to London in two days for one of my BFF's big 3-0 and you can be sure that I will be pigging out and celebrating with a fews drinks throughout the trip 😉 .
Every time I go to London I always have to have Indian food (cliché I know) and some of my favorite donuts that I can't find in Paris, I'm also really excited to have some gluten free cupcakes from this one shop, and oh yeah tea and scones of course … basically a bunch of things that are not good for my body! 😉 But if you can't let loose while on vacation what's the point?! Even if it stresses me out a little bit that I'm going to be bloating and probably will gain some weight, I think it's even worse not to fully enjoy your vacation. When you live fast paced lives like we do in Paris, it's so important to have these moments to give your body and mind a break.
So for the past week I've been on a 1-Matcha per day diet, to cleanse my body, give it some strength before messing it all up on vacation. I have noticed that drinking one every day tends to give me a little bit of the jitters if I drink it past 3 pm, simply because it gives me so much energy that my body feels boosted for hours after. So I recommend to drink it in the mornings or just after lunch at the latest, but everyone is different so observe how your body reacts and do what's best for you!
I've been exploring different ways of making Matcha, whether it's in my baked goods or in my drinks. I use almond milk almost every time, and a lot of these recipes call for maple syrup but I personally prefer adding agave syrup. Some also call for some coconut oil which I love but combined with the almond milk and agave syrup makes a pretty strong Matcha latte.
This Iced latte is really refreshing, perfect for hot summer days and takes 5 minutes to make!
1. Place all ingredients into a blender.
2. Blend on high for 10 seconds or until matcha powder is well combined.
3. Pour over ice in glasses.