Ingredients
Makes 8 pupusas
For the dough:
2 cups of corn flour
2 cups of medium hot water
1 teaspoon of olive oil
For the stuffing:
1 jalapeño pepper
3/4 cup of refried beans
1/2 cup of grated swiss cheese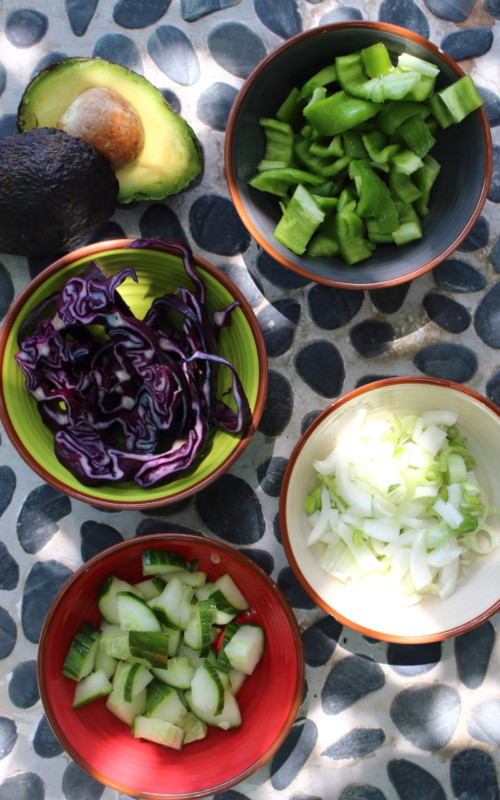 This weekend I explored my origins on my mom's side and cooked a series of South American specialties.
They were all just so delicious it made me wonder why I didn't make them more often, especially since these are my roots and it makes me feel close to my Grandmother from whom all of this was transmitted. So it's decided, I am going to make more of these yummy dishes from now on, and today I'd like to share 4 of them that we revisited this weekend: Fish tacos, Pupusas, Horchata and Virgin (or not 😉 ) Watermelon Margaritas.
Some of these dishes can be very greasy and fattening since they often have cheese in them and are fried in a bunch of oil. But they can easily be adapted to a healthier diet.
First of all, what's great about South American cuisine is that is it full of corn flour which is gluten free!! Also, a lot of these dishes are composed of refried beans, black beans, spicy jalapeño peppers and a bunch of vegetables. All of these ingredients are high in fiber which is important for a well-balanced diet. So let's just say that it could be worse in terms of calories.
So my Grandma comes from San Salvador, El Salvador in Central America, her family originally comes from Spain. She moved to California to seek a better life, like a lot of South Americans did. So as my mom grew up, she was educated with a European style cuisine, with all the savours from Central America and Spain. By the time the next generations were born, all the way down to me, a lot of these cultural values had unfortunately been lost, especially since I also have French blood on my Dad's side. But I will never forget when my Grandma used to make us fried tortillas and refried beans as kids, and would tell me how she would eat salty green Mangos off the tree back when she was a child in San Salvador.
Since I moved back to France, I have been desperately missing real South American food that used to be part of my regular eating habits in California. In France you can find some Tex-Mex fast food chains, but it's just not comparable and not very good. I recently moved to the 15th district in Paris and down the street from my apartment I discovered a real Mexican restaurant, owned by an adorable Mexican family. I was just so happy to finally find that here, until it went out of business a few months ago! I guess it's just not in the European culture…
So I started out with one of El Salvador's specialties' : Pupusas
A pupusa is a traditional Salvadoran dish of a thick corn tortilla stuffed with a savory filling, typically accompanied by spicy coleslaw.
The tortilla is commonly handmade from masa de maíz corn flour, filled and cooked on a griddle. Common fillings include one or more of cheeses, pork and refried beans.
I made mine stuffed with refried beans, swiss cheese and jalapeño peppers and fried them without any oil on the griddle. Makes less greasy Pupusas and they are just as good! A little tip, stuff them well 🙂 so that the beans and cheese oozes out of the Pupusa when eating it. The dough is very thick so it needs good filling in order not to be too dry or plain.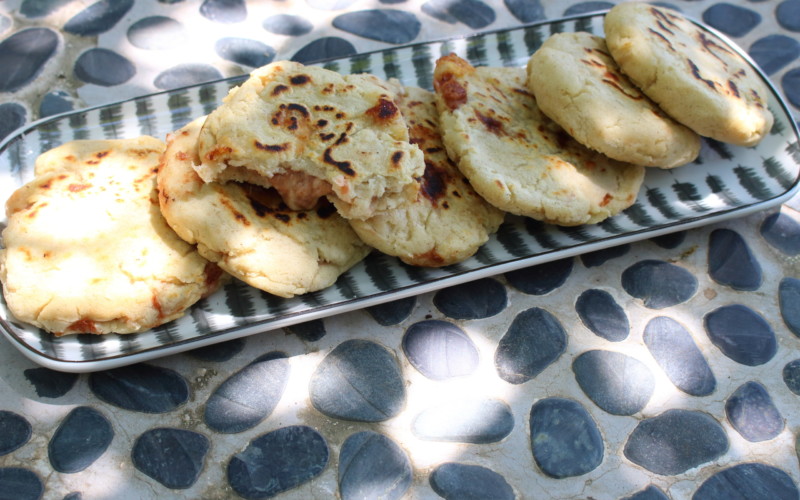 1. Rub your hands in olive oil.
2. In a deep salad bowl, form the dough by adding gradually some of the water to the flour and mixing it with your greased hands until the consistency of a smooth dough is obtained. (the trick is to have slightly oiled hands, don't skip this part). You may not need all the water so make sure to incorporate it gradually.
3. Form a ball (slightly bigger than a golf ball) with your hands then flatten it out into a patty. Make an indentation in the center in order to add a tablespoon of stuffing or so inside.
4. For the stuffing: Mix together the refried beans and grated cheese, salt and 1 seeded jalapeño pepper.
5. Pinch the dough around the stuffing forming a patty again, capturing the stuffing inside.
6. Flatten delicately the Pupusa and heat in a dry griddle until browned.
Ingredients
Makes 4 tacos
2 filets of fresh salmon
4 soft flour or corn tortilla shells
2 avocados
2 green tomatos
1 long green pepper
400g of purple cabbage
1/2 cucumber
1 green onion
2 limes
1 bunch of cilantro
For the Wasabi Mayonnaise:
1/2 cup of homemade mayonnaise
2 tablespoons of heavy cream
2 teaspoons of wasabi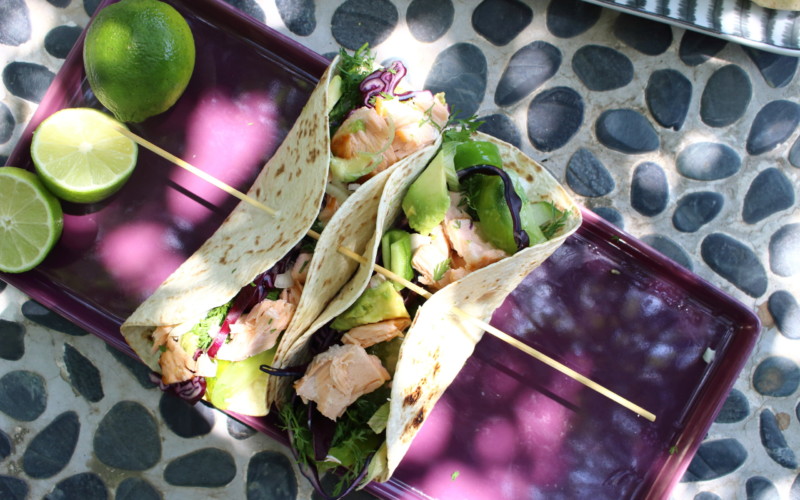 I also made one of my favorite Mexican dishes, Fish Tacos.
I made them with fresh cooked salmon inside, and a bunch of vegetables and herbs, topped with a tangy wasabi mayonnaise and lime juice. Let me tell you, it's amazing !
Ingredients
Makes 4 cocktails
2 cups of seeded frozen watermelon chunks
1 tablespoon of grenadine
Optional: 4 shots of tequila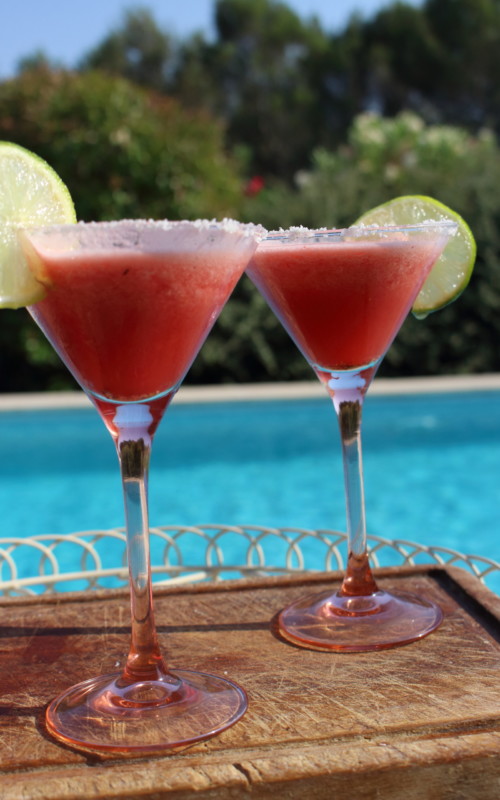 To top off these delish dishes, why not enjoy a nice and cool Margarita ? I made mine without alcohol and with watermelon to change. If you want your Margarita to be nice and cold, you can add some pieces of frozen watermelon instead of ice cubes. Gives you something to bite into and it tastes really good. Of course you can also add the traditional tequila inside, but it can also be done Virgin, with some grenadine instead 😉 which is the way I made it. A great poolside drink if you ask me 😉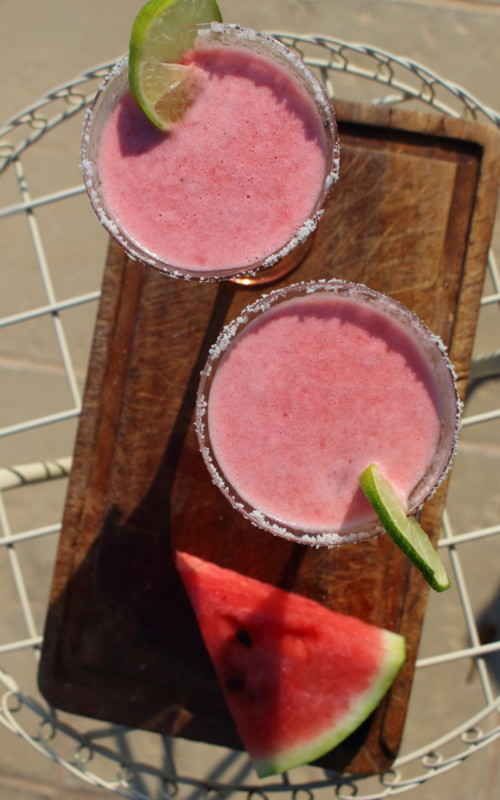 1. Assemble all the ingredients into a blender and blend until smooth
2. Rub a lime on the rim of the margarita glasses, then dip them in salt (the salt should stick to the rim)
3. Pour the mixture and add a frozen slice of lime on the edge of the glass and a few chunks of frozen watermelon as ice cubes.