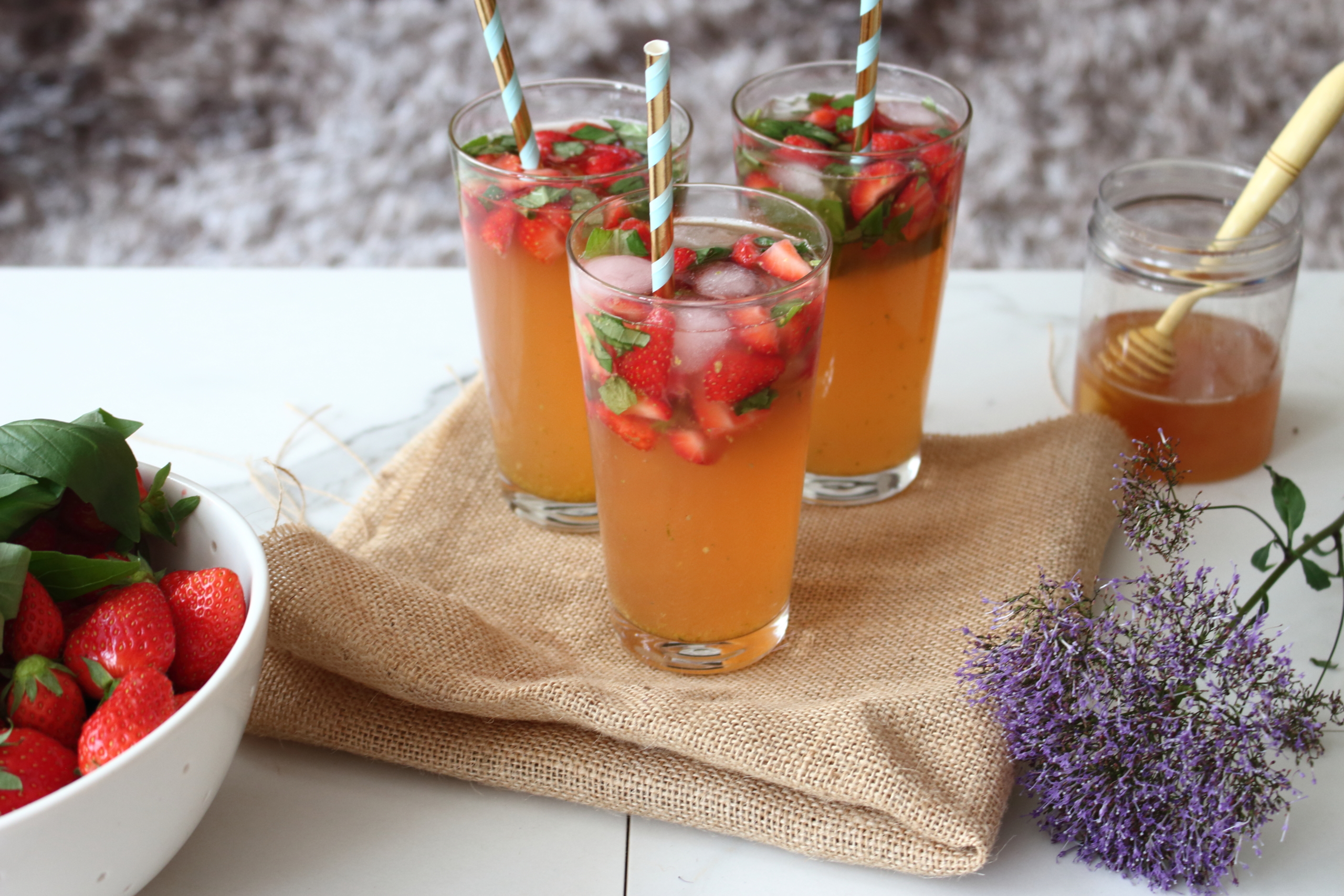 Well hello again! It sure has been a while, sorry about that ! 🙂 I've just been way too busy enjoying this amazing summer we're having 😉 . The weather has been glorious since May, I've been off to weekend getaways here and there, celebrating birthdays and weddings. Life is treating me pretty well I'd say.
Like every year, we are going through our heatwave of the summer. Living in Paris during a heatwave – with no A/C – is pretty much a nightmare. Pools are packed and are no fun, unless you enjoy being glued to a zillion people in a public pool (yeahh no thanks), everyone is fighting for a spot outdoors in restaurants, nobody's having a full night's sleep because it's so hot, and let's not even talk about public transportation…. But we loveeee it ! It's just so rare to have amazing weather here in Paris that you just have to embrace it. At least that's what I do 😉 My favorite part of hot summers in Paris is riding on my scooter, getting that nice breeze whilst enjoying the beauty of the city…
Anyway, with that said, not only am I dying of heat, but I dare not turn on the oven or stove in my apartment. Tomato salads, gazpacho, gluten free crackers with goat cheese, smoked salmon… those are my meals these days haha!
I've been making lots of iced tea and popsicles as well, and today I went all out with a honey sweetened, strawberry basil limeade (yes limeade and not lemonade!). Really nice and with lots of ice cubes it is so refreshing.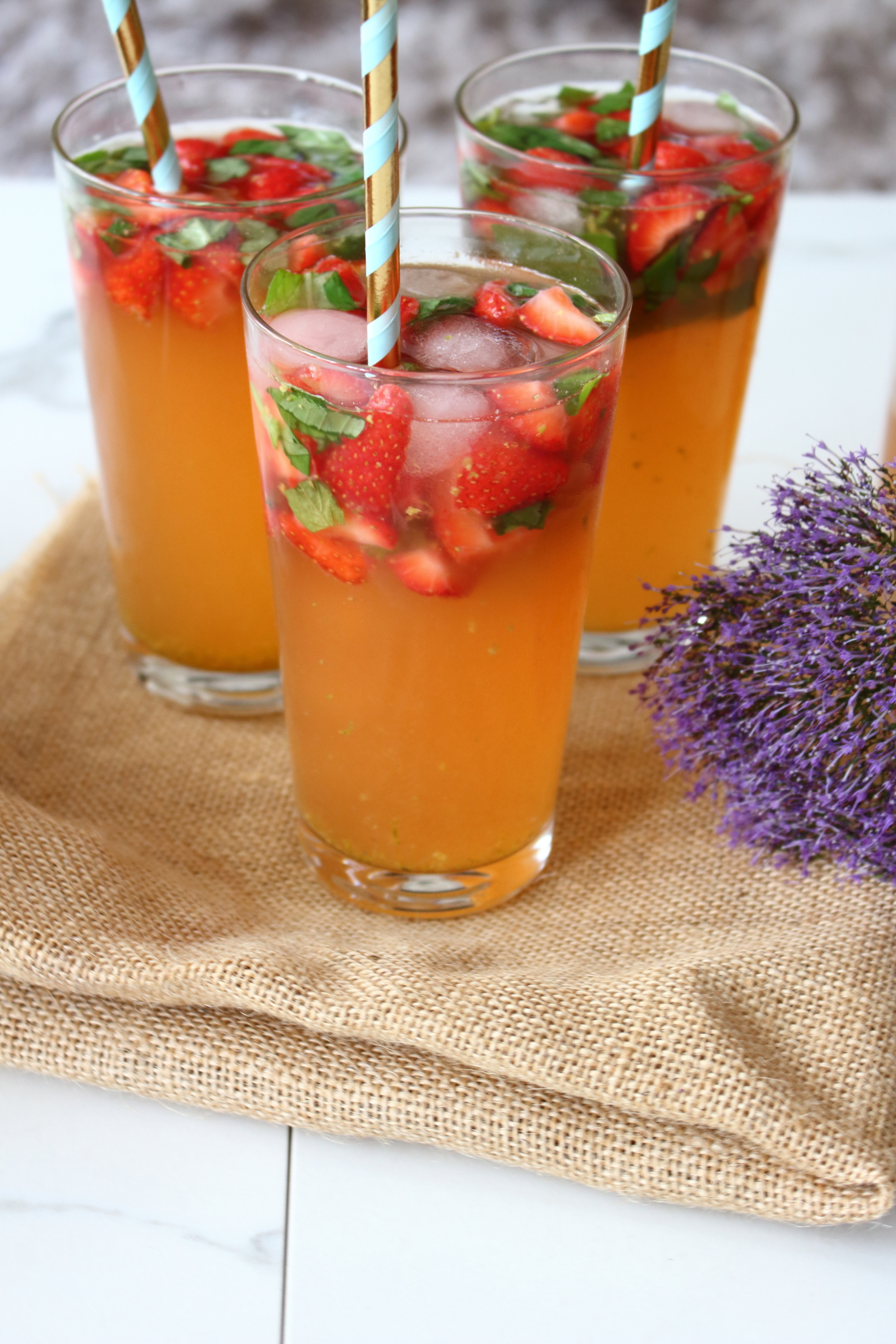 The trick to this Limeade is the quantity of water you add to it at the end. If you like your drinks sweet, you can add 2 1/2 cups of water to the mixture, if you'd rather have something less consistent 4-5 cups of water will be better.
This yummy drink needs to cool for at least 2 hours in the refrigerator before drinking, so that the strawberries can soak in the lime and honey syrup in order to release their flavor. I'm pretty sure that if you wanted to go all out you could add some Rum or Champagne to the mix and turn it into a cocktail !
I'm just loving this summer treat! Don't forget to eat the strawberries and basil at the end 😉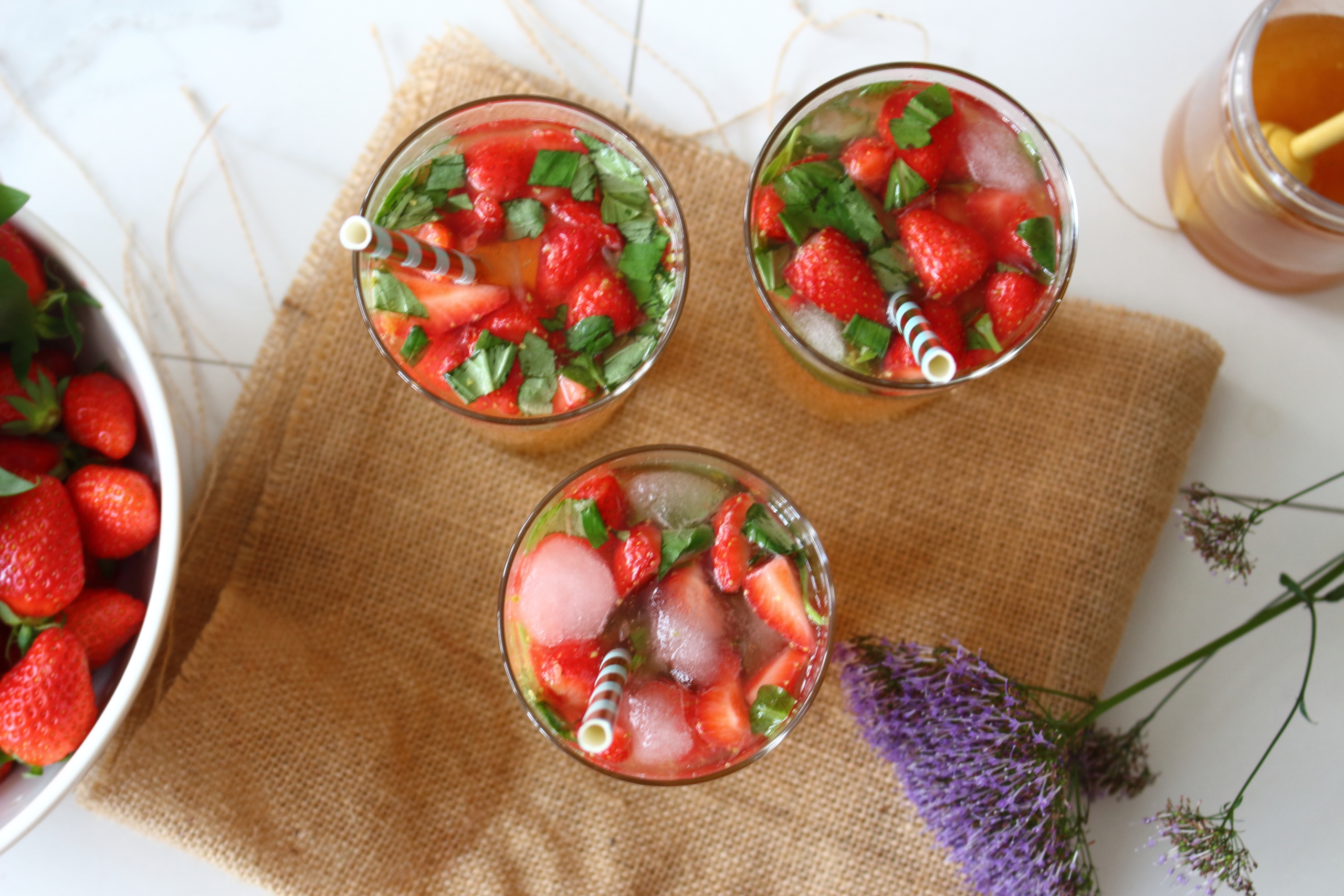 INGREDIENTS: (for 6-8 glasses)
For the Honey-Sweetened Syrup:
? 1 cup honey
? 1 1/2 cups water
For the Limeade:
? 12-15 medium size fresh limes plus 1 more as garnish (you need 1 cup of lime juice)
? 1 cup strawberries, sliced
? 1/4 cup of basil, chopped
? Ice
? 5-6 cups of water
METHOD:
1. To make the honey-sweetened simple syrup: Place honey and 1 1/2 cups of water in a small saucepan. Cook until honey is completely dissolved. Set aside and let it cool.
2. Zest 3 limes and place the zest in the saucepan with the dissolved honey.
3. Squeeze the juices of the limes. You should have at least one cup of lime juice.
4. To make the limeade: Place the honey mixture and lime juice in a pitcher. Add in sliced strawberries and chopped basil.
5. Add in 5 cups of cold water and give it a good stir. Place it in the fridge to cool for at least 2 hours.
6. When ready to serve, pour limeade into glasses filled with ice and garnish with chunks of strawberries and fresh basil leaves.
Recipe taken from the blog Foolproof Living