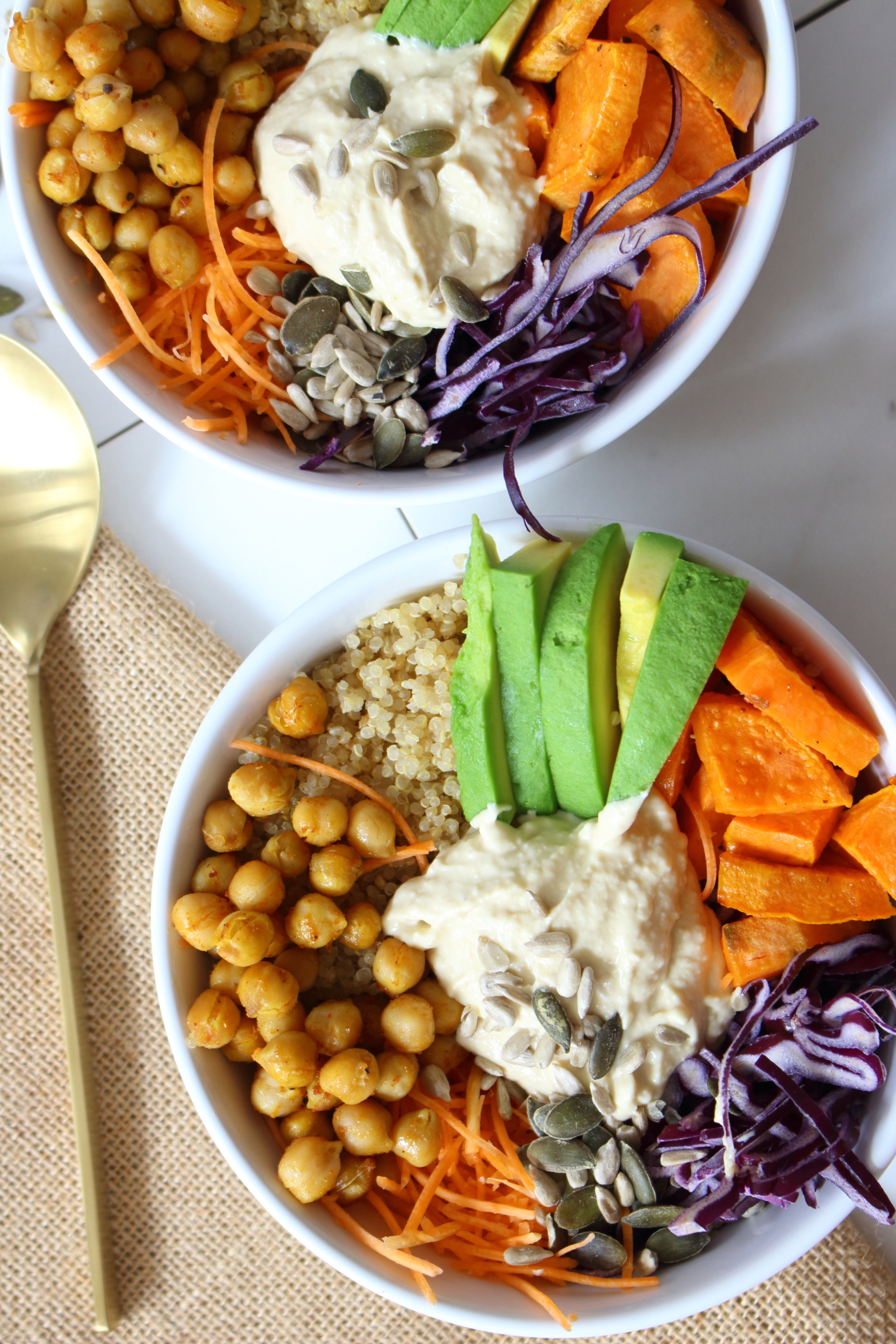 Today I'm going to talk about Buddha Bowls, the big trend of the moment. But let's get things straight, this is not new, it's been around for years (this is pretty much a salad 😉 ) !
The concept is simple: the point is to create a healthy (usually vegetarian) bowl with everything your body needs inside – protein, grains and roasted or raw vegetables. In essence, it's an overstuffed bowl resembling the belly of the Buddha 🙂 .
There are many recipes out there, and you can also create your own according to the season, adding your favorite ingredients or with what's in your fridge.
The idea is to start out with a bed of greens – kale, arugula, watercress, mache, fresh spinach – then to balance your bowl with a dose of protein – quinoa, garbanzo bean, kidney bean, hard-boiled egg, brown rice – or if you want to get creative you can also try sunflower seeds, chia seeds or walnuts.
To finish add raw or roasted vegetables on top giving your bowl some texture – crunchiness, or softness – and savour by seasoning them with your favorite herbs or spices.
When all has been assembled, according to how you have seasoned your vegetables, you can add the appropriate dressing – olive oil and balsamic vinegar, lemon juice – and can even be topped with some scallions, red pepper flakes, garlic, ginger…. The options are endless..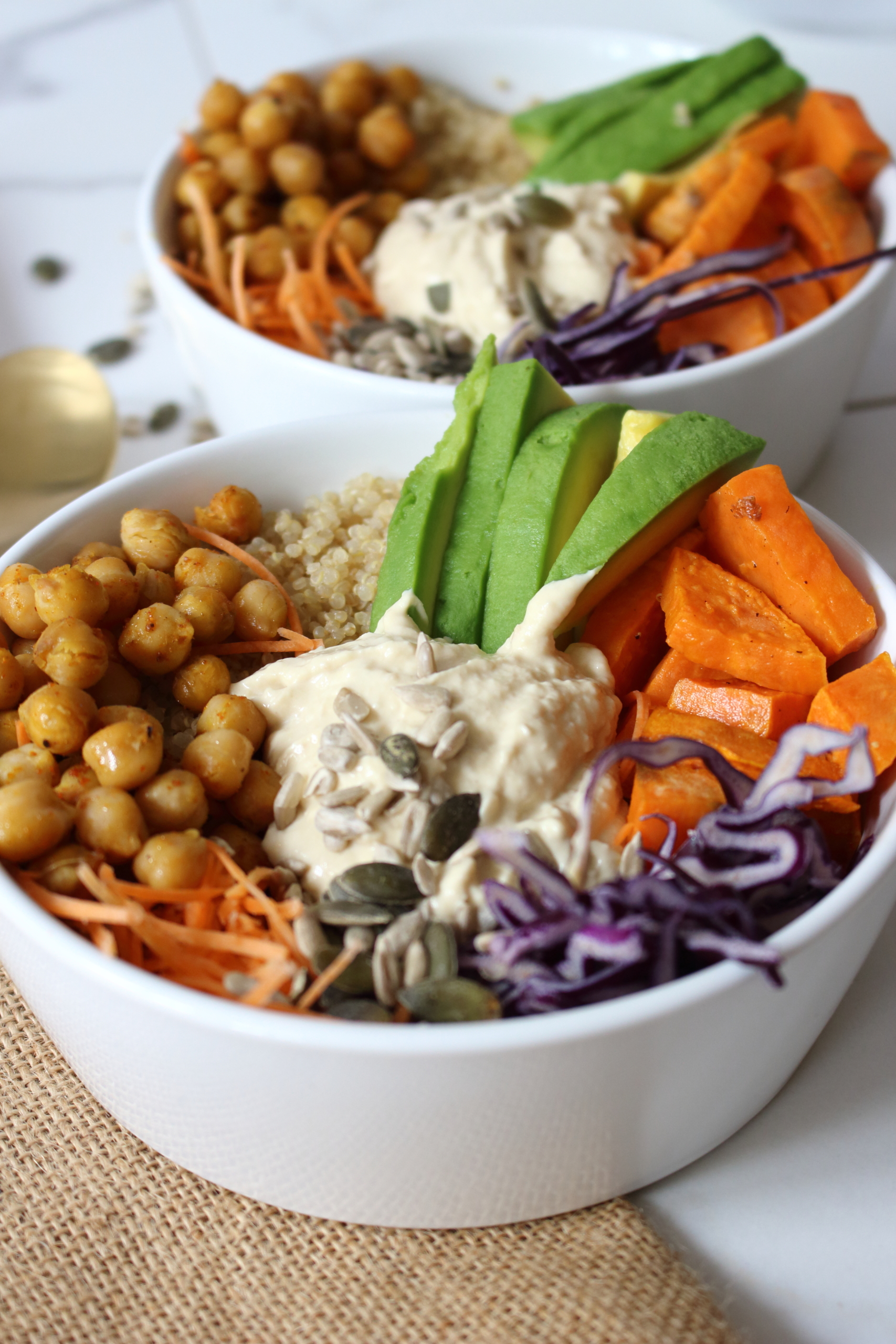 Today I made my Buddha bowl vegetarian, with sweet potatoes that I roasted with olive oil, salt and pepper, then I also roasted garbanzo beans with curry powder to give it some tang.
In the center of my bowl, in addition to my quinoa and veggies, I topped it off with some hummus which replaced the dressing. A delish!
Feel free to add some meat to your buddha bowl, but sometimes I feel it's just as good to eat clean and lean with replacement ingredients that will nourish you just the same.
Let me tell ya, this will fill you up for the day but will keep your body feeling healthy and properly nourished. 🙂
INGREDIENTS: (serves 2-3 people)
? 1 large sweet potato, chopped into 3/4-inch cubes
? 1 can garbanzo beans, drained and rinsed (about 1.5 cups)
? 1 cup uncooked quinoa
? 1 large carrot, peeled & grated
? couple handfuls of purple cabbage
? couple handfuls of greens for the base (optional)
? Hummus
? Sliced avocado
? Sunflower seeds
METHOD:
1. Pre-heat the oven at 200°C / 390°F and line a baking sheet with parchment paper.
2. Peal and cut the sweet potatoe into small to medium sized cubes and spread on baking sheet. Season with olive oil, salt and pepper and bake for 15-20 minutes or until roasted. Set aside.
3. Rinse the garbanzo beans and pat completely dry. Once the sweet potaotes are done, transfer the garbanzo beans on the same baking sheet, and add a little olive oil, salt and pepper, and curry powder. Bake for 10 minutes or until roasted. Set aside.
4. Cook quinoa and set aside. Let all the ingredients cool down until completely cold (can be eaten warm too).
5. In a bowl, start by adding your choice of greens to the bowl (optionnal), then assemble the quinoa, roasted sweet potatoe, roasted garbanzo beans, cabbage and grated carrot. Top with a generous scoop of hummus and sprinkle with sunflower seeds.
6. Season with salt and pepper and if you desire some olive oil.