Pierre Hermé and the French Cystic Fibrosis Foundation 'Vaincre la Mucoviscidose' have partnered together on International Macaron Day on March 20th to fight against Cystic Fibrosis.
This year I decided to volunteer for this cause dear to my heart. As you may know, CF is a huge part of my life because I was born with the disease and have been fighting it all my life. It's not my habit to over talk about my illness, but today I wanted to share this experience with you as it perfectly falls into place with my new culinary journey and blogging.
In a few words let me tell you a little about CF. It is a genetic illness that affects the lungs and digestive system which leads to difficulties breathing and gaining weight due to the malfunction of most vital organs caused by the illness. Living with CF is now possible thanks to the ground-breaking medical research over the years, but for far too long it was a children's disease. Now adults live longer lives with CF but with important daily treatments.
A lot of us call it the invisible disease because it is physically non visible making it hard for some people to understand the impacts it can have on the body. I personally find that to be a blessing in disguise because it has allowed me to have "normal" personal and professional relationships throughout my life helping me to overcome this burden of an illness.
So this morning I spent 4 hours in one of Pierre Hermé's Parisian boutiques to talk to clients about this operation and about CF. I was very surprised to see that almost all of the clients knew what CF was or knew someone with CF. 10 years ago nobody knew this illness despite the fact that over 4% of the world's occidental population are carriers of the CF gene. I took it as a personal mission to create awareness more than actually get donations and I'm really proud of the outcome.
On this special occasion, Pierre Hermé has created unique flavors only sold for Macaron Day such as:
Olive Oil with Mandarin Orange, Fresh Mint, Pure Origin Belizean Dark Chocolate, or also the Orange & Carrot with Ceylon Cinnamon. Not only do you get to taste some exclusive creations but for every donation you leave with a free macaron of your choice. The donations will go to the foundation and a percentage of the benefits of the day will also go to 'Vaincre la Mucoviscidose'.
I was able to taste all of these creations and my personal favorite goes to – surprisingly enough – the Hazelnut Foie Gras Macaron ! A subtle taste of foie gras combined with the crunchiness of the hazelnut is amazing!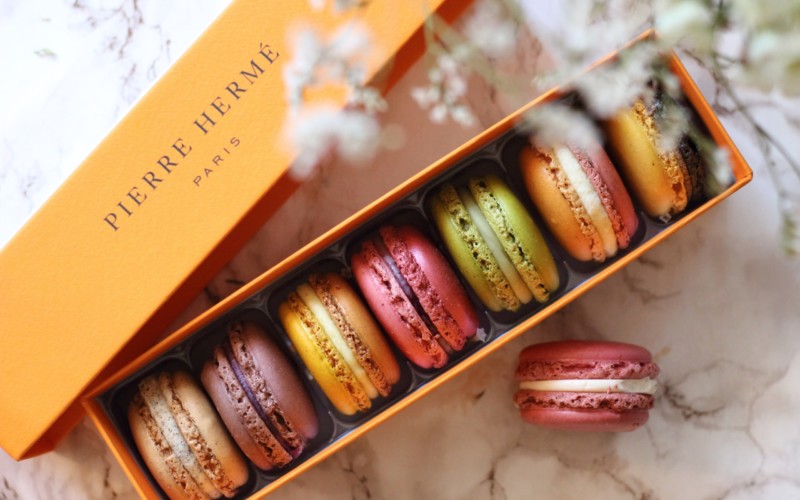 Related posts